MSO Lifetime Achievement Award – Carol Hevey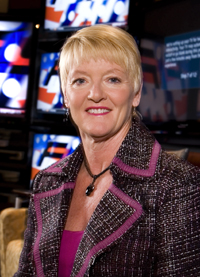 Carol Hevey
Time Warner Cable
Emmy-winning series "Undercover Boss" puts senior executives in the field to do the work their rank-and-file employees carry out daily. One reason Carol Hevey never appeared on the show: she'd already done it all. And that was before she ran Time Warner Cable's East Region as EVP from 2009, until she retired in February.
Hevey's storied career at TWC began humbly. When the Ohio native entered the work world more than 30 years ago, most sectors, including cable, were dominated by men. So Hevey started as an administrative assistant, eventually working in a bevy of positions and locations. Before entering TWC's senior management ranks, Hevey's resume included positions at call centers and in the field.

Hevey absorbed as much as she could at each stop, and her extensive experience taught her to make difficult decisions swiftly. Having been in her employees' shoes, she understood their concerns, needs and desires. As WICT chief Maria Brennan says, "Carol Hevey walked the walk."
When Hevey entered senior management, she knew that staying close to employees, customers and local leaders would be critical. In a February 2011 CableFAX interview, Hevey said she made sure to be visible at TWC offices and in the community. Communicating with her 17,000 employees was paramount. "I've always tried to do that as a leader…. know what's going on with employees. What they're thinking, what their questions are, what their challenges are. I need to know and understand those things so I can do my job, which is to support them to be successful."
Beyond her experience, other things helped Hevey become one of the most powerful women in cable. The first was apparent after talking cable with her for a few minutes or hearing her give a speech. She spoke directly and honestly. And her variation on Horatio Alger touched and inspired women during countless WICT events—men too. Indeed, throughout her career Hevey gave back, mentoring colleagues inside TWC and outside, through WICT. Within TWC, she was a stalwart of the company's Diversity Council.
Perhaps key to her success in all these areas, though, was her passion. "It is wonderful to be recognized for doing what you love," she said last Fall during ceremonies honoring her as WICT's Woman of the Year. "And the simple truth is that I genuinely love the cable business. A number of things have kept me excited to come to work every day for the last 30 years—the dynamic nature of our industry, the learning opportunities and challenges that provides, and the pleasure of working with colleagues and partners who are passionate about what they do. I love all of it, and I admittedly thrive in a world of never-ending change and challenge."
TWC Chairman/CEO Glenn Britt put it well: "It is rare to find a leader who possesses that perfect blend of business savvy, the courage to make bold decisions for the right results, and the ability to mentor and grow talent. Carol is such a leader." WICT's Brennan calls her "the consummate leader." Perhaps no tribute is more fitting, Brennan says, than what WICT Carolinas, Hevey's home chapter, did when it named its highest honor the Carol A. Hevey Leadership Award.
While it's hard to imagine Hevey slowing down, she tells us "I'm enjoying a much more relaxed lifestyle" in retirement. In addition to decorating, gardening and golfing, "I'm reconnecting with family, extended family and friends." Besides cable's fast pace, Hevey misses "the friendship, camaraderie and shared accomplishments that I enjoyed … with wonderful, talented colleagues at TWC and in the industry… I will always think of myself, in part, as a cable person." Agreed.
FAST FACTS
• Prior to running TWC's East Region, Hevey ran TWC's Milwaukee; Portland, Maine; and Boston divisions.
• In addition to WICT's Woman of the Year honors in 2012, Hevey received a Vanguard Award for Cable Operations Management in 2011; was named to USAir's 2010 Charlotte USA 20: Celebrating Dynamic Women honors list; and recognized by Queens University of Charlotte as the 2010 Charlotte Business Woman of the Year.
• Hevey was the 2011 chairperson of the American Heart Association's Go Red for Women Campaign in Charlotte and was on the board of advisors for the Charlotte Area YWCA and the North Carolina Governor's Conference for Women.
For a look at the 2013 Top Ops Issue of CableFAX The Magazine, go here.