More Timelining: Personal Cloud Mobile App
White-label mobile-cloud developer Funambol upgraded its personal cloud solution by adding with a visual mobile timeline app.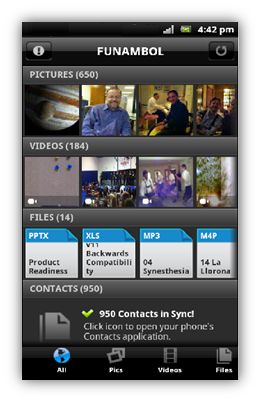 The Funambol OneMediaHub lets users secure digital photos, videos, files, contacts and calendars on mobile phones, tablets and computers in the cloud, and then sync and share them.
The app also give wireless providers of all kinds to deliver a branded iCloud-like service for more devices, and Funambol is upgrading its end-user personal cloud service, previously called myFUNAMBOL, to the new OneMediaHub solution next month. It's available to service providers for both on-premise and SaaS deployment; pricing depends on deployment model.
The app includes:
>> A touchscreen user interface for Android smartphone and tablet devices, with support for iOS and other devices coming soon;?
>> A home page with thumbnails of pictures, videos and files stored in the cloud, without downloading;
>> Separate views for pictures, videos and files in a timeline for easy navigation and browsing;?
>> Video playback and file viewing using native or third-party device players/viewers;
>> Sharing of cloud content via email or social networking sites without download; ?
>> A bandwidth saver to limit transfer of large pictures, videos or files over Wi-Fi only; and?
>> Address book and calendar sync across devices and computers.