More Matchmaking, Even For the Matchmaker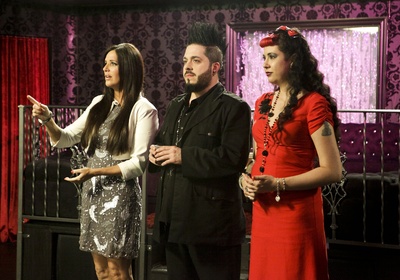 "The Millionaire Matchmaker" star Patti Stanger and her dating helpers.
Honest to a fault matchmaker Patti Stanger and her team have returned home to LA for the fifth season of Bravo's "The Millionaire Matchmaker." "Everyone's beautiful here but no one commits…and when the girls become beaten up emotionally they're appreciative, which New York didn't have. They were the bitterest people I've ever seen," said Stanger. "And they won't listen to me. LA, they listen to me."
In true Hollywood fashion, the fifth season comes complete with celebrity advice from Jenny McCarthy, who helps a nerd find his sex appeal, and Tori Spelling. Even Perez Hilton makes an appearance during an interview with Stanger for his show.
The millionaires aren't the only ones looking for love. "In the 13th episode I actually date and I do the mixer process. And it was the scariest time in my life…You will see a totally different Patti. I'm soft, subdued and submissive when I date. I'm completely different," said Stanger.
The new season premieres Monday August 15 at 9pm on Bravo and will be followed at 10pm by "Most Eligible Dallas," which follows the relationships and ensuing drama of single socialites in Dallas. "I'm hoping this show takes off because I think they're learning that the category is really big for Bravo, being single. I think that's what's happening," said Stanger. "There's another matchmaker show [Project Soulmate] coming out with my production company…which takes place in NY and is a husband and wife team. So we will be coming out with a lot of love genre for you."