Mobile Backhaul: Keeping The Mobile Industry Awake At Night

In the last few years, I have had the pleasure of interviewing many network executives from many mobile operators, both large and small. I always end my interviews with the same question: "What keeps you awake at night?"
The answer for the last few years has invariably been the same: Backhaul. Another popular answer is "the EPC" but that is a topic for another column.
In fact, the backhaul issue has become so big that one well-known industry network architect used to give me the "backhaul" answer before I had even got to the "n" in "night" in my original question. While much of the media has focused on sexy 4G LTE, with promises of 5 Mbps for every man, women and child, the need to actually get this traffic off the radio network and into the IP core and beyond, has been largely ignored.
Backhaul is boring, unsexy and does not get much attention on "CSI" or "Law & Order." When was the last time you heard a TV criminal investigator order "track his cell phone," only to get the reply, "we can't – there is no backhaul available?" Exactly. People like to focus on the techy, geeky parts of the mobile networks, not the oily bits that actually glue everything together. Remember that wireless networks are actually about 95 percent wireline – only the last half a mile or so uses actual radios.
So with this in mind, I present to you a few scary facts from our new study U.S. Mobile Backhaul Forecast, 2011–2016:
>> The demand for mobile data in the U.S. will grow at a compounded annual growth rate (CAGR) of 56 percent in the next four years. In fact, more mobile data will be used in the first five weeks of 2016 than was consumed in all of 2011.
>> More mobile data used by consumers means more mobile backhaul in order to get that traffic to and from the radios.
>> The corresponding growth in mobile backhaul means a CAGR of nearly 58 percent between 2011 and 2016. Or, 9.6 times as much mobile backhaul will be needed in 2016 as in 2011.
>> Microwave backhaul traffic is expected to grow at a CAGR of 68 percent from 2011 to 2016.
>> But fiber is king: mobile backhaul traffic over fiber experiences the strongest growth in backhaul traffic, rising at a CAGR of nearly 85 percent.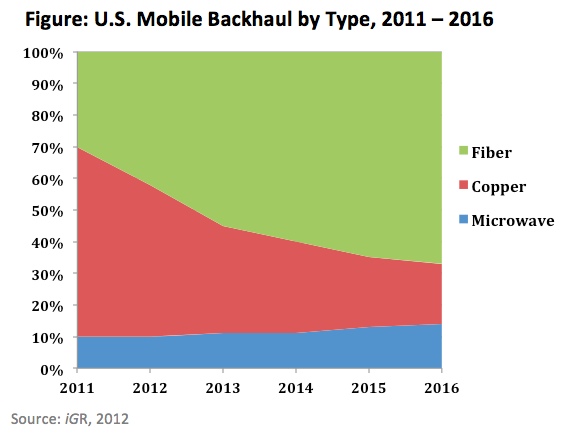 Not only does the industry need more backhaul, it needs more backhaul of the right type. LTE networks are very sensitive to timing (you need to keep everything in sync or else grandma cannot see her grandkid doing a back flip on a mobile Skype connection) and that means the LTE radios need quality mobile backhaul (further discussed in our report).
So slapping on the cheapest backhaul connection that may be available for a particular cell is not going to work. Think of LTE as the radio technology that has been to finishing school – it demands the best in life and that means nothing less than the Bentley of backhaul will suffice. And that now means as much fiber as the operator can get, given the limitations of cost and access.
Backhaul is not hard to provide, but it can be costly and take time. For example, running a fiber connection to a tower located by a highway may not be too bad. But if the tower is in a greenbelt or in a difficult-to-reach location, then digging the trench for the fiber will be more difficult and hence take longer to implement. For this reason, iGR expects a range of solutions to be continually used for backhaul, including good ol' TDM and copper.
Backhaul concerns will not keep the mobile network execs awake forever – it is a matter of building the necessary connections and keeping it running. But backhaul has certainly come out of the back rooms of the wireless industry and is now considered one of the critical aspects of the network architecture. This is unlikely to change.
Iain Gillott is the founder and president of iGR and iGR Semiconductor Research Inc. Contact him at iain@igr-inc.com.
This article was originally published in the March 13, 2012 iGR Opinion Newsletter. For more information, about iGR, click here.