Live From The SCTE Canadian Summit: Big Winners And Small Cells
What's a SCTE meeting without a tech smackdown? The Canadian Summit always features a "Technology Challenge" that pits five vendors and their best product introductions against each other. Following their short presentations, attendees submit a "Dancing with the Stars" text vote to determine the winner.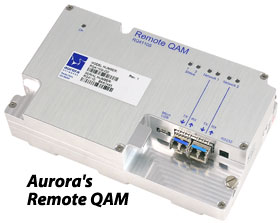 This year, the "Technology Most Likely To Succeed" is the "Remote QAM" module from Aurora Networks. Aurora demonstrated how the node-based Remote QAM module can deliver any mix of services — including broadcast, narrowcast, cable, IPTV and DOCSIS — in the same QAM channel, thus enabling operators to dynamically tailor services to local demands.
Further, cable operators can enjoy this dynamic flexibility while simultaneously reining in the complexity of their RF and optical infrastructure, controlling and reducing capital and operational expenses, managing the environmental footprint of their headends and simplifying operations.
"Effective bandwidth management is critical for all operators, and Aurora has made great strides in making this easier with their Remote QAM module," commented Rob Bazilewich, CTO at Westman Communications Group and co-chair of the Technology Challenge. "It is evident that the Technology Challenge audience saw how the capability and flexibility of the Aurora solution could garner great interest from the cable industry."
Added John Dahlquist, vice president/Marketing at Aurora Networks, "This endorsement further reinforces Aurora Networks' belief that the evolution of the node is essential to the future success of cable operators."
He continues. "The Remote QAM module is a natural extension of our product line — a unique next generation access solution that helps operators to achieve scalability and flexibility with lower overhead costs. Our continued focus on evolving the node will help ensure that Aurora Networks' node platform remains cable's silver bullet, supporting the migration to digital HFC and not a node-to-nowhere."
The other players:
>> Alcatel-Lucent demonstrated how its Motive Home Network Management and Support Solution can provide cable operators and their subscribers with enhanced visibility and control of the multi-user, multi-device, content-rich home-enhancing customer experience.
>> Metaswitch showed how its mobile-content-sharing solutions can enable the accelerated deployment of an expanded array of communications services that can differentiate cable system operators' service bundles in a competitive environment.
>>NDS showcased its VideoGuard Connect Digital Rights Management-based (DRM) solution for multi-platform pay-TV that provides content and service protection within a single, unified system designed to support multiple DRMs.
>> RGB Networks explained how its just-in-time packaging (JITP) feature increases adaptive streaming capabilities for VoD and nPVR by allowing operators to store a single "mezzanine" format of content and to deliver that content to any device only when requested by the client.
On a more personal note, Christopher Skarica, account vice president/Strategic Sales Canada for ARRIS, was given the annual Canadian Engineering Professional Award, sponsored by Aurora Networks. According to SCTE, Skarica has been a member since 1999, and he has "played key roles in the implementation and development of new technologies into cable-TV networks across Canada."
What Is Innovation?
According to keynote speaker Mike LaJoie, executive vice president/CTO at Time Warner Cable, cablecos have been front-burnering the same thing for the last 30 years: innovation. But what does that word mean? LaJoie says it has four parts: functionality, convenience, reliability and price.
Cable engineers of yesterday only had to drive between three and 10 analog channels to be successful, and LaJoie listed a few thing TWC's techs are doing to keep up, including the consolidation of systems and services. This entails "densification," defined as shrinking the footprint while cramming more services into fewer square feet; and virtualization by taking advantage of more cloud-based applications.
Moving forward, LaJoie touted a TWC program he hopes will help create the technicians of tomorrow by using in-house mentors to push the importance of math and science to school kids. "The geek will inherit the earth," he concluded.
The Growing Small-Cell Revolution
Mobile data traffic is set to grow 60 percent per year through 2016, and there is no one solution that can help operators handle all that network pressure. Cable operators can take advantage of this data explosion…if they have the right things in place.
"You need a network that can combine all the tools that are out there," said Rob Hughes, senior solutions manager/Mobile Broadband at Ericsson. "We need to make the macro network better. We need to have antenna-integrated radios. We need to have in-building solutions."
Other must-do's: Densify your macros. Deploy more backhaul. Add low-power nodes.
Hughes pointed out that it's a good thing cable operators have evolved into experts when it comes to siting, because working with small cells and heterogeneous networks (hetnets) means deploying "a magnitude greater of the number of cells you deploy in a macro."
"You need to take a cookie-cutter approach to deploying small cells," he told attendees. "You have to concentrate on quality rather than perfection, because you can't send an army of techs out for each site. You have to get it right the first time. And you also have to work in a multi-vendor environment."
Indeed, by 2016, the small-cell market is set to hit 3 million units, valued at more than $2 billion and driven by urban area capacity upgrades; and those units will be made by Alcatel-Lucent, Ericsson, Huawei, Nokia Siemens Networks, ZTE, ip.access, Contela, Juni, Minieum Networks, Ubiquisys and others.??
According to Stéphane Téral, principal analyst/Mobile Infrastructure and Carrier Economics at Infonetics Research, "While small cells, including microcells and picocells, have been used for the past two decades to improve voice coverage, now mobile broadband is shifting the game to capacity upgrades. Therefore, the chief objective is to complement and enhance the macrocell layer from a capacity standpoint with a new breed of low-power nodes like public space femtocells and Wi-Fi."
Téral builds on Hughes' idea of breaking up the macros into smaller areas, "but dividing the macro layers into smaller cells remains challenging due to inter-cell interference and backhaul issues. The question is: how small can the cell be? Because the smaller the cell, the higher the number of units required to cover an area, and that will determine the true size of the small-cell market."?
More Infonetics small-cell findings:
>> Small-cell market growth is being driven by operators seeking to enhance saturated macrocellular networks that are currently struggling to maintain a decent mobile broadband experience for subscribers.
>> For the next three years or so, most operators are planning small cells only in the urban core.
>> Next year, 3G small cells will make up 63 percent of global small-cell shipments, with 4G small cells kicking off and ramping up rapidly to make up 37 percent. However, 4G small-cell shipments will overtake 3G small cells by 2015.
— Debra Baker