Leslie Ellis: Journalist/Technology Translator/Cable Insider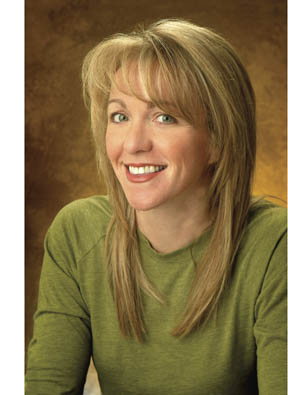 When Leslie Ellis graduated from high school and was heading off to college, her goal was to become a really good secretary. Now, more than 20 years later, Ellis is a respected trade journalist who often matches wits with the top technologists in the cable industry.
While she underestimated her skills at the beginning of her career, during the years, she's carved a unique niche for herself as a journalist who's more interested in explaining complicated technology than in getting the latest scoop. She's also somewhat of an industry insider who regularly moderates CTO panels and who is permitted to attend CableLabs conferences, off limits to other journalists.
When asked what she enjoys most about her career, Ellis says she likes to make complicated technical stuff understandable. And she has a track record of doing just that. For 10 years, she's written a weekly column for Multichannel News called "Translation Please," aimed at demystifying cable and broadband technology. She's also authored two books: Definitive Broadband and the A-to-Z dictionary Definitive Broadband: Next Generation. She also co-authored Planet Broadband.
But what really makes Ellis tick is her relationships with people.
Tony Werner, Comcast's executive vice president/CTO, remembers Ellis calling him on the first day of his new job at Telecommunications Inc. back in the early 1990s.
"I was new to Denver and the phone rang," says Werner. "My assistant said, 'I have Leslie Ellis on the phone, got a quick second?' I said 'sure,' a little bit caught off guard because it was my first week on the job. She proceeded to ask me a lot of questions, which I answered very candidly."
"I was working at CED at the time," says Ellis. "I called the main number. He answered. He thought I was their internal PR person."
Werner jokes that, fortunately, the phone call didn't result in him losing his job. In fact, he and Ellis developed a professional and friendly relationship.
"I think she is a hero of ours because she contributed so much in the early days of CableLabs, taking very poorly written technical journals and helping to translate them," notes Werner. "Also, she's moderated more CTO panels than anybody I know. She does it with a degree of precision, class and fun that makes you want to work with her. She really has been a friend to most of the technologists and CTOs. She's been a friend first, a technologist second and a journalist third. I think that's a great formula."
"A lot of the time, it's the same suspects on those panels," adds Mike LaJoie, executive vice president/CTO at Time Warner Cable. "She has developed a relationship and a repartee that she can have a more familiar dialogue and a better understanding. She is absolutely a professional in the way she conducts panels and does interviews. There's a line as a journalist that you have to walk so that you don't alienate people, but at the same time you are digging for information that hasn't been revealed."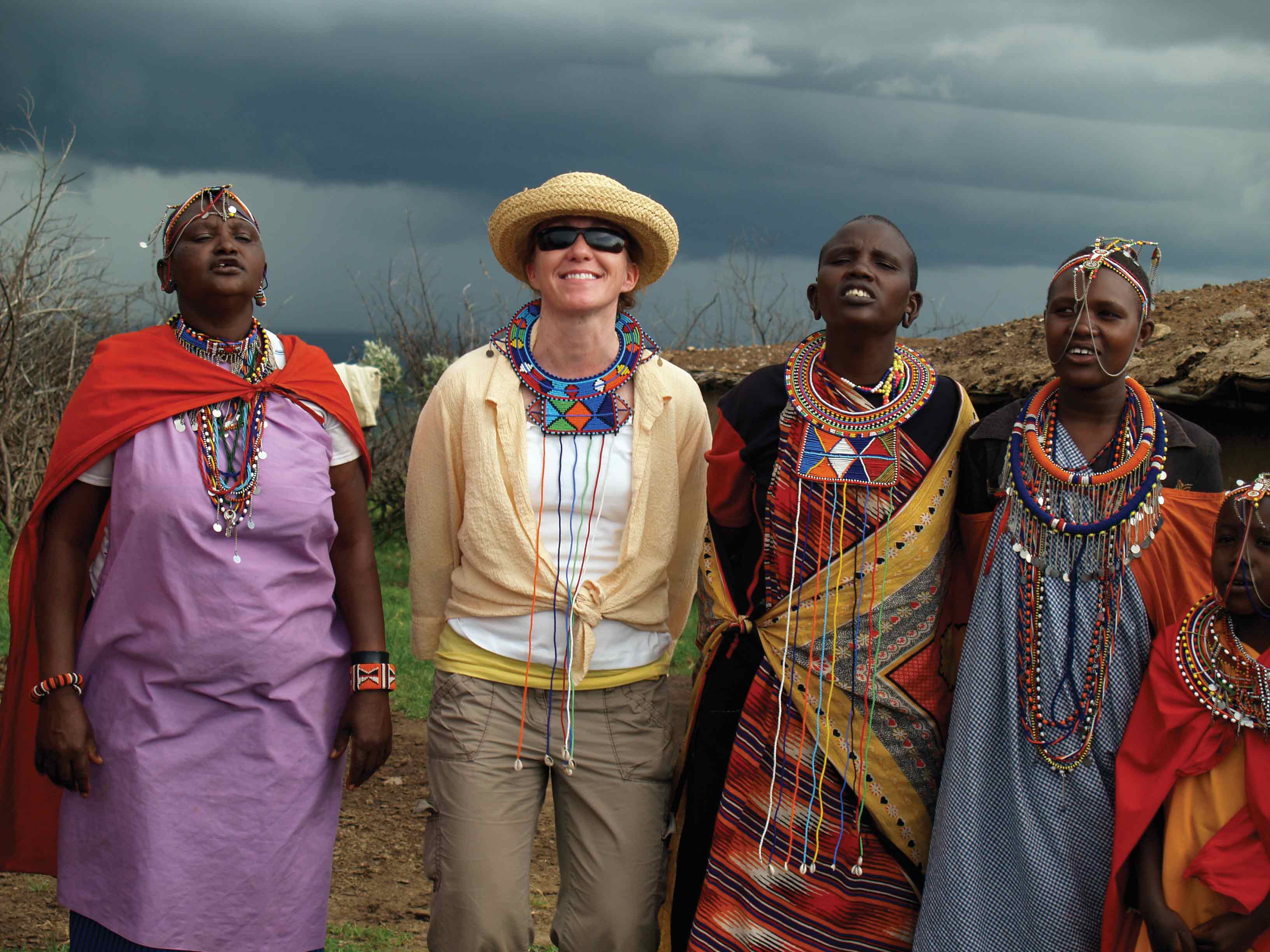 During a trip to Africa, Ellis spent time with women of the Masai Mara National Reserve.
The Back Story
Actually, Ellis doesn't consider herself a regular trade journalist. Her college education focused on pure science and business. She fell into cable technology by getting her first job at an ad insertion gear company, where she wrote hardware and software manuals. From there, she worked as managing editor at CED (1990-94), after which she was named senior technology editor at Multichannel News (1994-98).
In 1997, she married Doug Semon, now vice president/strategic technology development and standards at Time Warner Cable. Since then, her personal and professional lives have blurred.
"I was getting to be good friends with a lot of people in the industry," recalls Ellis. "I knew that I was getting conflicted. If I told (my editors) about things I found out, friends of mine might get fired. Relationships are more important to me than breaking news for a trade magazine. It's not like we're solving cancer. It's cable TV. I got out of news because I'm married to a cable operator."
After leaving Multichannel News, she did a brief, but highly stressful stint with Paul Kagan Associates as a senior technology analyst. Then she decided to strike out on her own, forming her company — Ellis Edits — based in Denver, from an office she shares with her beloved dog Stella.
Relationships
To run her business as a technology columnist, analyst, author and consultant, Ellis relies on her vast network of industry connections.
Dom Stasi, CTO emeritus of Avail-TVN, says that, some 20 years ago, Ellis wrote a focus piece on him for CED. The piece opened with a line that went something like this: "He's the guy who flipped the switch that launched MTV."
"Since the moment of its publication, that line has followed me, haunted me, defined me to strangers and friends alike," says Stasi. "Wherever I go, whatever dubious accomplishments I might claim, I'm still introduced as, 'He's the guy who flipped the switch on MTV.'"
Stasi and Ellis have maintained a friendship since that article was written. They might have dinner together at a convention or ask each other to participate on a panel.
"Most technologists are very focused types," Stasi comments. "It has to be exact, precise; it's also extremely arcane and esoteric. Leslie has a broad view as well as a focused view. She understands the technology in detail but is able to disseminate it to non-techs. Her gift is to make this difficult and often arcane subject matter intelligent to lay readers."
Charlotte Field, senior vice president/infrastructure and operations at Comcast, says Ellis has been instrumental in helping women in the cable industry.
"I first met Leslie when I started going to WICT (Women in Cable Telecommunications) and participated with her on the board of WICT in the early 2000s," says Field. "She's very engaged in wanting to make technology simple for women and helping them to understand that technology is everywhere, whether in marketing, operations or development."
Cynthia Carpenter, vice president/sales and marketing at IBBS, got to know Ellis in a professional capacity, but then the two became friends and now belong to the same book club.
"When she went to Africa (on vacation), she was still thinking about cable," says Carpenter. "It's kind of in her DNA. She took a picture of a billboard advertising some cell phone and posted it on Facebook."
More than that, Ellis took time from her vacation to interview the head of a cable operation in Kenya. "They're building a brand new HFC system there, so talking to him was a flashback to here," Ellis says. "But it's a much more difficult environment in Nairobi."
Playing To Her Strengths
According to Ellis' friend Kelley Dunn, "One thing Leslie always said: she's going to do work that she likes for people that she likes."
Dunn, who is a software consultant, says as part of her career she administers a behavioral test called The Birkman Method that helps people identify their vocational strengths. Dunn administered the test for Ellis, and the results were: she's very organized, amazing at communicating verbally and in writing, and works best on a subject that she's passionate about. "She's really living her truth," says Dunn.
"Leslie seems to have this panoply of skills that allows her to fill a unique role," adds LaJoie. "She can sit with the geeks and actually befriend them, and she fits right in."
But whether she's sparring intellectually with CTOs, mentoring women in WICT or hanging out with engineering gear-heads, Ellis enjoys people.
"I love talking to people and finding out how things work," she says. "I love the engineering side because people in it are so funny and honest. They're seekers of truth."
Linda Hardesty is Communications Technology's associate editor. Contact her at [email protected]