Inside the Minds of Late Night Comedy Writers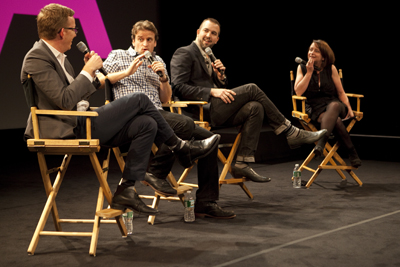 A.D. Miles, Head Writer, Late Night with Jimmy Fallon; Barry Julien,
Co-Exec Producer, Colbert Report; Matt Roberts, Head Writer,
Late Show with David Letterman; and SNL's Rachel Dratch at the
New York Television Festival. Photo: Lauren Caulk/NYTVF
—
At the NY Television Festival Wednesday evening, head writers and producers of late night television revealed secrets about their trade. Moderator and SNL star Rachel Dratch picked their brains on everything from how they started out in comedy to who should run for president. Here's what transpired.
On Beginnings
Head writer of "Late Night with Jimmy Fallon" A.D. Miles was captivated by comedy at an early age. In fact, he moved to New York because of the late night credits on Letterman. "I thought New York only existed at night," he said. Meanwhile, over in the Midwest the "Late Show's" current head writer Matt Roberts was watching as well. From the age of 11, working for Letterman was his goal. He started at as a lowly intern and worked his way up to his dream job. It's actually not an uncommon scenario to move up the ranks at Letterman, Roberts told the crowd. In fact, many of its current writers started at entry-level positions.
At Jimmy Fallon, on the other hand, interns aren't exactly farmed through the ranks. "We inherit ours from an NBC 'bag,'" Miles joked. "We don't know where they come from." The writers acknowledged that starting off as a writer for late night is incredibly unnerving. "It's a terrifying process," according to Barry Julien, co-executive producer of "The Colbert Report," especially when you realize the amount of content you have to churn out and how long you're at it every day. "It's the most vulnerable position to be in," added Roberts. But since they've all been there, veteran writers are always willing to help the newbies acclimate. "There's a process to it, and there are people to help you," Julien said.
On After-Hours
Do they watch news at home when they're off work? Miles said he's got nothing left at that point. You're more likely to find him with a glass of scotch staring off into space. For Colbert writer Julien, though, the digestion of news after-hours continues. Given the show's focus on current events, he'd consider it "derelict" to avoid his duty. Interestingly, the writing staff at Colbert isn't chock-full of politicos. Only one new hire is into politics, Julien said. The through line among the staff is actually sketch comedy. "Pretty much everyone has a goofy sense of humor," he said.
On National Events
How do the guys stand on national events? Or scandals? Are their jobs more difficult when, say, an Anthony Weiner continues to make headlines day after day? Heck no. "Anthony Weiner, God Bless him," prayed Miles. The moment the news of Weiner's 'Carlos Danger' alias broke, Roberts also prayed: "Let this story be true," he uttered to himself. Julien, by contrast, expressed the difficulties of inventing that many jokes about the male member. "It's sad when you want him to go away because you don't have any more penis jokes."
On Guests
Turns out that politicians tend to make the better on-air guests, the panel agreed. Using NJ Governor Christ Christie as an example, Miles said politicians tend to be more gracious. Accustomed to being scrutinized by the public, they've learned how to be good sports. For the Colbert Report, the best guests are those who buy into the host's fake persona. "It goes better when they take him at face value and accept him as a moron," Julien explained. But when people try to let the audience know they're in on the joke, not so much.
On Presidents
And now the most important question: Whom does each writer want for president? Miles' vote is for Anthony Weiner. Roberts went with Chris Christie. And Julien would be downright thrilled if Carlos Danger ran the White House.