Independent Strategic Thinker of the Year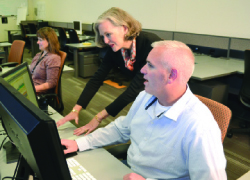 Amy Tykeson
BendBroadband
BendBroadband pres/CEO and chmn Amy Tykeson has more reasons than most to be proud. In addition to receiving this year's Independent Strategic Thinker honor, Tykeson in June was inducted into The Cable Center's Hall of Fame and named a Cable Pioneer. Previously, she's been a Vanguard Award recipient, served as president of WICT and was recently named CableFAX's Independent Executive of the Year.
Despite these and numerous other accolades, Tykeson quickly deflects the spotlight to BendBroadband's team. The company, like Tykeson, quietly seems to be several steps ahead of everyone else, particularly when it comes to technology. Its list of firsts include the 1997 launch of high-speed Internet, the 2008 conversion to all-digital and the 2011 roll out of LTE 4G wireless broadband over licensed spectrum to rural areas. In 2011, the company opened the first colocation data center in the U.S. to receive the Uptime Institute's Tier III certification for design and construction. The carbon-neutral facility also is LEED Gold certified. "Amy's record of strategic accomplishments at BendBroadband is unmatched," says ACA chief Matt Polka. "It doesn't get any more innovative than Amy and BendBroadband."
You seem to leapfrog the competition on technology.
I'm not sure we are leapfrogging the competition, but rather making the best long-term investment decisions we can and working hard to implement against those investments to drive results. The talented team of BendBroadband associates has been able to transform those decisions into business models that benefit customers.
What technologies excite you the most?
There are two directions that we are going that get me charged up. The first is our work to tie many solutions together to drive more benefit for our customers—particularly in the commercial services realm. With fiber, hosted services, phone products, advertising capability, backup services, and colocation facilities, we are able to put together comprehensive technology solutions that help our customers be more efficient and solve problems. Second, our work with managed services using our Vault Data Center as the platform is gaining traction. We are offering physical, dedicated colocation with high-density capability and virtual colocation, making our world-class facility affordable for smaller businesses.
What will BendBroadband offer tomorrow?
It's really about applications and experiences across platforms, not devices going forward. BendBroadband will be offering more intuitive integration of applications that lead to great customer experiences, such as the transformation of traditional video with apps, search and discovery for content on any device. For business customers we are working up the value chain to capture more of the IT spend with services like physical or virtual colocation and managed services. For both customer groups it's about bringing more benefits to customers, such as cost savings, simplicity, time and peace of mind.
What can cable do better to survive in the very competitive environment in which it lives?
There are three things I hope we can improve on to influence our success as an industry. First, we all know that scale matters. But it will take more than that to stay strong as an industry—to deliver the best services, delight our customers and share innovation to leverage our incredible platform. The NCTC and CableLabs bring standards and scale; but, we are all small operators in the big picture, and we have to stick together. Second, we need to continue to grow gender diversity and make cable a career choice for today's college students. We all know the benefits of different perspectives for better decisions. Third, the cable industry is about more than programming. Our high-performance broadband means economic vitality and sustainability in communities small and large. It's time we harnessed the message that our technology is the catalyst for huge innovation. We are the community connection, the innovation hub and we have been for the past 20 years.

Fast Facts
• Tykeson began her career in 1980 with HBO, rising to VP of Area Marketing in NYC.
• Active in both ACA and NCTA, Tykeson chairs the Rural Systems and Small Operators' Committee as a member of the NCTA board and serves on the board for CableLabs and CSPAN.
• The Governor of Oregon appointed Tykeson to serve on the Oregon Health Sciences University board. Her previous board positions include Vice Chairman of the Catlin Gabel School Board of Trustees; the University of Oregon Alumni Association board; and The Nature Conservancy board for Oregon.