How The Internet's Architecture Got Its Hourglass Shape
In the natural world, species that share the same ecosystem often compete for resources, resulting in the extinction of weaker competitors. A new computer model that describes the evolution of the Internet's architecture suggests something similar has happened among the layers of protocols that have survived – and become extinct – on the worldwide network.
Understanding this evolutionary process may help computer scientists as they develop protocols to help the Internet accommodate new uses and protect it from a wide range of threats. But the model suggests that unless the new Internet avoids such competition, it will evolve an hourglass shape much like today's Internet.
"To avoid the ossification effects we experience today in the network and transport layers of the Internet, architects of the future Internet need to increase the number of protocols in these middle layers, rather than just push these one- or two-protocol layers to a higher level in the architecture," says Constantine Dovrolis, an associate professor in Georgia Tech's School of Computer Science.
The research was presented in August 2011 at SIGCOMM, the annual conference of the Special Interest Group on Data Communication. The research was supported by the National Science Foundation.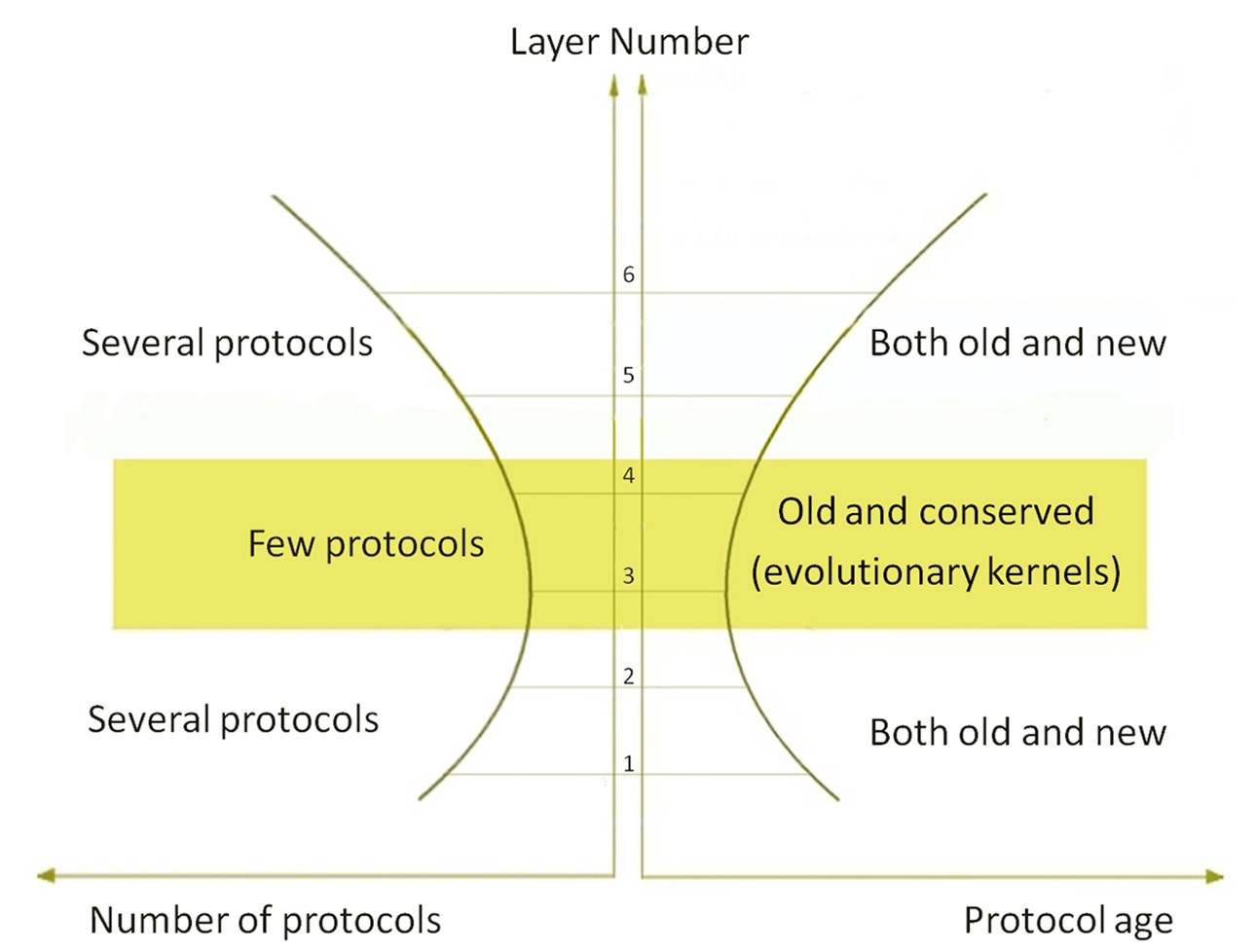 The illustration above shows the number and age of protocols in each layer of the Internet architecture. In the middle layers, there are only a few protocols that are old and conserved.
From top to bottom, the Internet architecture consists of six layers: (1) specific applications, such as Firefox; (2) application protocols, such as Hypertext Transfer Protocol (HTTP); (3) transport protocols, such as Transmission Control Protocol (TCP); (4) network protocols, such as Internet Protocol (IP); (5) data-link protocols, such as Ethernet; and (6) physical layer protocols, such as DSL. Layers near the top and bottom contain many items, called protocols, while the middle layers do not. The central transport layer contains two protocols and the network layer contains only one, creating an hourglass architecture.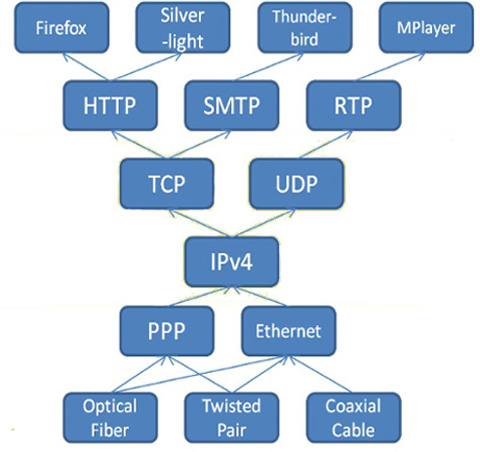 The illustration above shows the six layers of the hourglass Internet architecture: specific applications, application protocols, transport protocols, network protocols, data-link protocols and physical-layer protocols.
Dovrolis and graduate student Saamer Akhshabi created an evolutionary model called EvoArch to study the emergence of the Internet's hourglass structure. In the model, the architecture of the network changed with time as new protocols were created at different layers and existing protocols were removed as a result of competition with other protocols in the same layer.
EvoArch showed that even if future Internet architectures are not built in the shape of an hourglass initially, they will probably acquire that shape as they evolve.
The model revealed a plausible explanation for the Internet's hourglass shape. At the top, protocols are so specialized and selective in what underlying building blocks they use that they rarely compete with each other. When there is very little competition, the probability of extinction for a protocol is close to zero.
"In the top layers of the Internet, many new applications and application-specific protocols are created over time, but few things die, causing the top of the hourglass to get wider over time," concludes Dovrolis. "It is not true that the best protocols always win the competition. Often, the kernels of the architecture are lower-quality protocols that were created early and with just the right set of connections."
– Abby Robinson
(Editor's note: this piece was presented with the permission of Georgia Tech. For more information about research in this article, contact Constantine Dovrolis at constantine@gatech.edu)