Helpful Zombie Survival Tips from the Cast and Producers of AMC's 'The Walking Dead'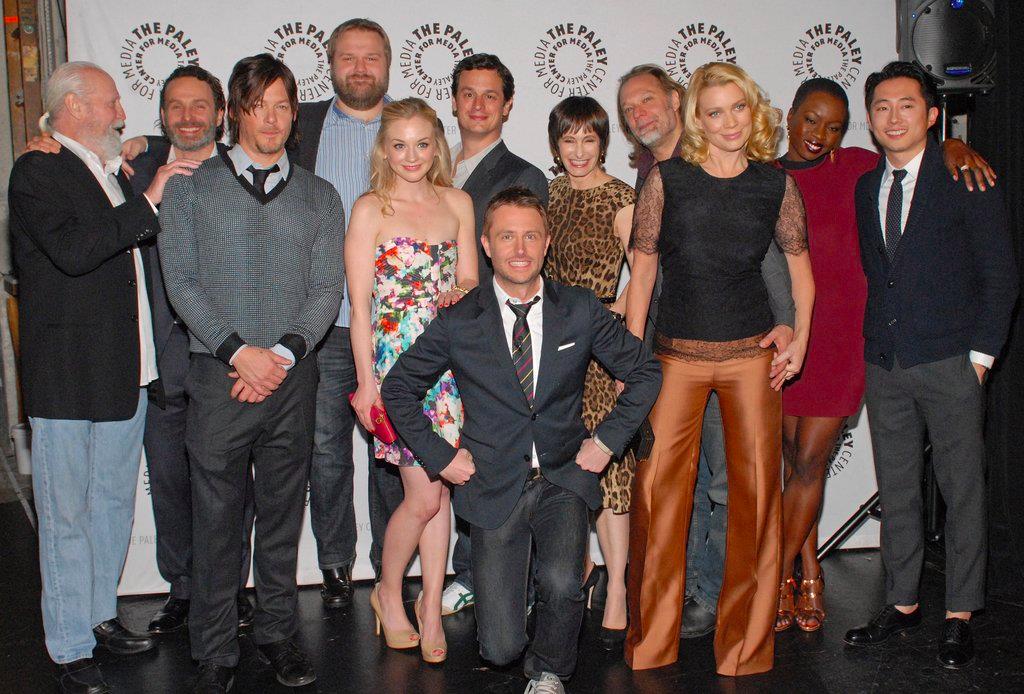 It's not really a question of if our friends and neighbors will at some point turn into flesh-eating zombies… but when. So CableFAX did what any responsible news organization must do: We trolled Friday night's Paleyfest red carpet celebrating AMC's "The Walking Dead" in search of zombie survival tips. Now, nevermind that the show continues to pull in massive, ridiculous, record-breaking ratings. That's not important now. What matters is unfiltered advice on how to evade these brain-hungry walkers before they kill us all. And who better to impart such wisdom than the cast and producers of The Walking Dead. The following tips aren't just creative and entertaining—they could save your life:
Scott Wilson ("Hershel Greene")
TACTIC: Strength in Numbers
(Motioning to his other cast mates) "Get with this group. This is the group that knows how to survive it. Stay with this group. They can take care of it. I've seen them do it."
Emily Kinney ("Beth Greene")
TACTIC: Don't Hesitate.
"Go for the head always. Kill and run. Don't wait. I would say just don't try to hide or something. They travel in groups. So just kill and get out of there."
Steve Yeun ("Glenn Rhee")
TACTIC: Sustenance.
"I'm a good food finder. I'm really good at sniffing out food. So maybe that." (An awkward pause). "I don't know. That's pretty lame."
Gale Ann Hurd, executive producer
TACTIC: Let Daryl Go First.
"My survival tactic is find Daryl Dixon, and try to stay behind him. I know he's going to keep me alive."
Andrew Lincoln ("Rick Grimes")
TACTIC: Let Daryl Go First.
ALTERNATIVE TACTIC: Hide Behind Hershel.
(pointing down the red carpet to Norman Reedus, who plays zombie slayer Daryl Dixon) "I'd just push him in front of me. Or I'd just stand behind Scott Wilson. He's a beast."
Robert Kirkman, executive producer/creator
TACTIC: Tropical Vacation.
"The deserted island. Find that, and you're good to go. Live on a beach. That'll work. Lots of coconuts" (CableFAX then asked the obvious question: Can't zombies swim? He didn't miss a beat). "They would walk on the ocean floor, but they'd probably get eaten by sharks or something. They wouldn't make it to a deserted island."
David Alpert, executive producer
TACTIC: Booze.
"I think if you got really drunk that the alcohol would repel them. I haven't tested this out, but that's my guess." (At this point, Kirkman interjects) "Plus, if you stay really drunk they might just think you're another zombie." (Alpert nods) "Right, I'd be lurching back and forth."
Greg Nicotero, executive producer
TACTIC: Go to the Dentist.
"I would hide in a dentist's office. Because if you really think about it, if the zombies have any memory their pre-existing lives, you'd want to go to the one place where they would never go. If you go to a dentist's office, they would avoid it, and you'd be set. Things would be great. You'd have all the fluoride you would ever need. And no one would ever find you. People say I'd hide in a mountain, or I'm going to go to an island. No. Just go to your dentist's office, and you'll be safe."
Chris Hardwick (host of "The Talking Dead")
TACTIC: Find Water.
ALTERNATIVE TACTIC: Offer Water to Girls You Want to Date.
"Purified water. You've got to have water. It's boring, but it will keep you alive. I guess it could also be walking up to women and saying, 'Remember you said if I were the last person on Earth… How about now? I have water, which is gold. It's liquid gold.' So I'd say that survival of the species is the best pick-up line you could ever have—even without an apocalypse."