Elemental Supplies 4K at Sochi, Predicts Significant Uptake by 2016
According to research from multi-screen video solutions provider Elemental Technologies, a significant amount of trials and uptake of 4K HEVC is expected by 2016. The company is a provider of Ultra HD for major tentpole events such as the Sochi Olympics and the CES conference that occurred in January 2014.

Elemental said that a December 2013 survey of the company's customers, which included a cross-section of broadcasters, sports programmers, pay TV providers and motion picture studios, showed that 88% are likely to adopt HEVC by 2016, and 74% are likely to adopt 4K/Ultra HD delivery.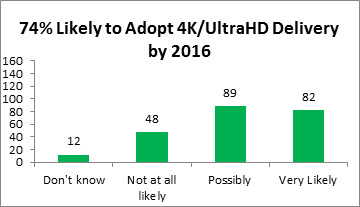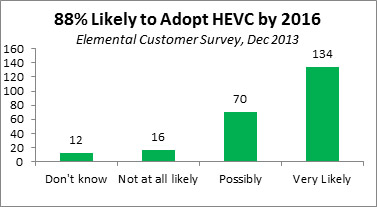 At Sochi, Elemental has been working with Russian satellite TV operator NTV Plus and Broadcom to telecast the Sochi Olympics live in Ultra HD to Russian audiences. The broadcast, which aired February 7-16, employed technology such as Elemental's live video encoders, real-time decoders from Broadcom, NTV Plus satellite uplink and signal receiving systems and Sony PMW-F55 Cine Alta 4K Digital Cinema cameras for playback on 4K Panasonic TVs.

Aside from the Olympics, Elemental also powered a real-time 4Kp30 HEVC live transmission of the Osaka Marathon in October 2013; the real-time 4Kp60 live transmission of London December 2013; and the 4Kp60 real-time transmission to multiple devices at CES in January 2014. At Sochi, the real-time UHD transmission via a satellite link on a single STB chip is a first. Upcoming events making use of its technology include the FIFA World Cup kicking off in June.