As companies begin moving larger files, they are starting to confront the previously unnoticed limitations of the TCP protocol that runs under all of the major file transfer protocols now in use. This "tax" can reduce the effective transfer rate of large files by as much as 3,000 times. This impact has gone unnoticed by many operators because "storage systems are not frequently tested for moving files that are tens or hundreds of gigabytes in size," notes Bhavik Vyas, director/Technology Sales at Aspera Software.
Recently, Aspera Software and BlueArc demonstrated new tools capable of reclaiming this lost bandwidth. The companies combined Aspera Software expertise in network optimization with BlueArc's expertise in storage optimization to transport files as large as 1 terabyte at close to native bandwidth speeds across 10G networks.
The Limits TCP Affects Throughput
One of the fundamental strengths of TCP is its high reliability through the use of acknowledgement packets. This works great for small files, Web sites and applications that only send small packets. But it also creates a bottleneck for larger file transfers that must wait for an acknowledgement before sending the new packet. The impact of these delays grows exponentially, with increases in latency or packet loss. On a LAN, this tax might be only 10 percent, but it quickly can grow to reduce the effective throughput by 3,000 times over a nationwide network.
As Doug Junkins, CTO at NTT America, explains, "The TCP protocol is connection-oriented. It has a lot of controls built in to make sure that every packet is received in the correct order and is accurate, so there is buffering and window sizes where it only lets so much traffic onto the network. There are a lot of things you can do to tune TCP for a particular type of connection for the window size on the server or the client but, ultimately, it is a tradeoff."
Unfortunately, all of the major protocols used for transferring large files run on top of TCP, including FTP, http, RSYNC and Secure Copy. In contrast, Aspera has developed the fasp protocol that runs directly on top of Internet Protocol. Other companies, including Riverbed Technology and Cisco, have developed other WAN optimization tools, but these run on top of TCP or are application-specific.
Vyas says, "TCP is fine with small amounts of data, whereby the transfer speed and reliability of the data delivery is not compromised by the size of the data being moved. But when TCP is used to transport tens of gigabytes, such as digital movies, the transfer of that data is a function of TCP's performance, which includes latency and packet loss in the network."
Fasp Action
The Aspera software is deployed on both the transmitting and receiving computers, and on a management server located on the network. There also is a Web client available that allows a media provider to use Aspera to send large files to companies that have installed the software. This architecture allows the Aspera technology to be used on networks that don't have fixed entrance and egress points.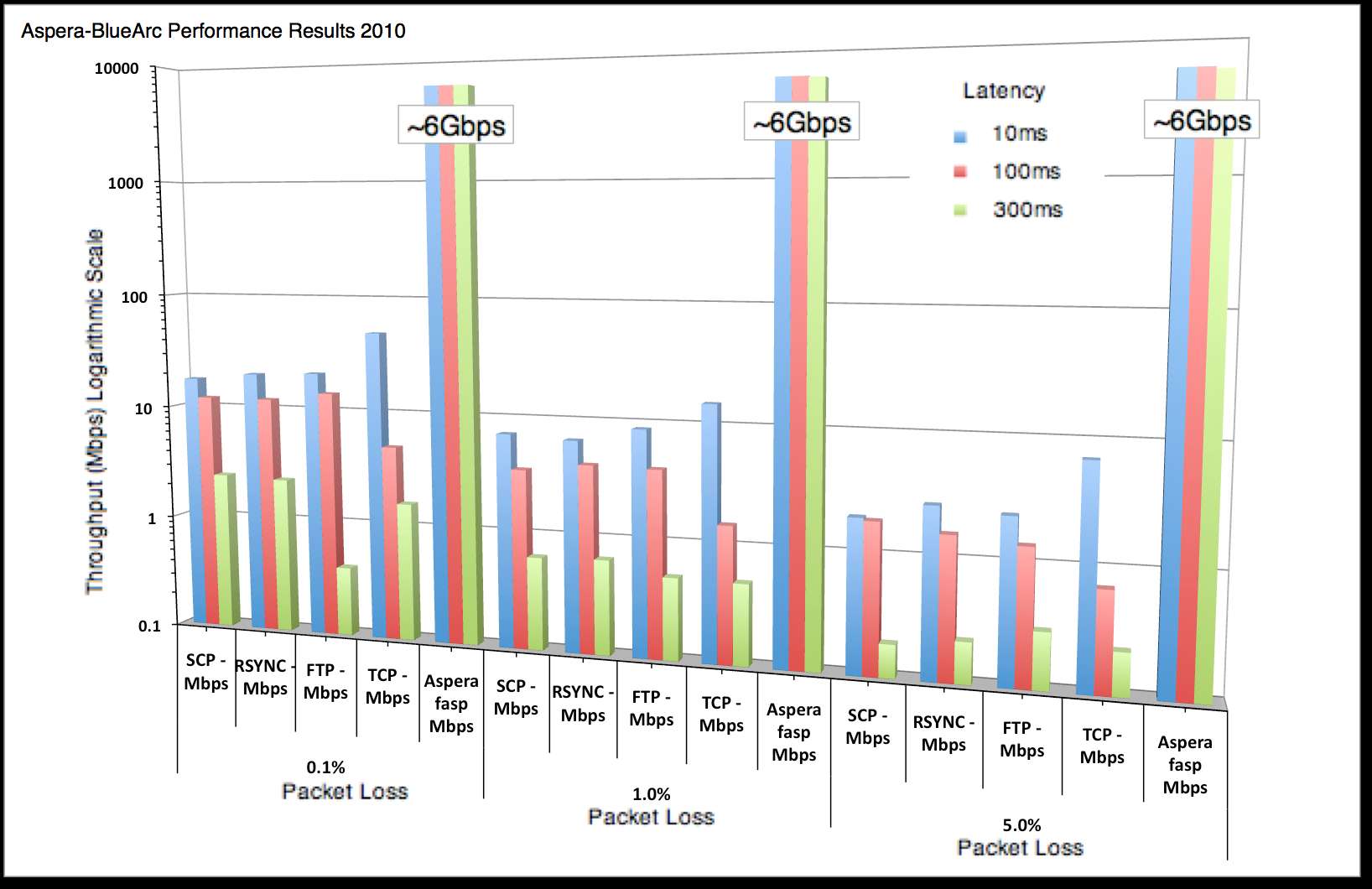 The technology already is being used by Sky Italia for receiving movies from content producers; and it's widely deployed by movie studios, content-distribution networks and game developers.
According to Vyas, it's possible to implement the software for set-top boxes. At the moment, streaming protocols that support bandwidth throttling are more commonly used for delivering movies to the home and may be more efficient when consumers are only watching part of the movie. However, fasp could be useful when the consumer set-top is downloading entire movies.
-George Lawton