Nicole Reed
National Geographic Channel has expanded its East Coast development team with the addition of Nicole Reed as vp, development and Igal Svet and Naimah Holmes as directors of development. Reed's last post was director, nonfiction and alternative programming for A&E, where she developed programming on A&E and Bio, on series such as "Barter Kings" and "My Haunted House." Before that, she was manager of development at Discovery Channel, having worked on "American Guns." Reed also worked as a unit production manager in independent film production. Nicole tells us she has an obsession with cheese—even the processed kind. "Everyone loves Velveeta!" She also loves to travel, but as she has little time for big trips she takes a lot of 3-day weekends.
Igal Svet
Prior to moving to Nat Geo, Svet was vp of development for Miami-based production company 2C Media, where he was responsible for its unscripted slate. While there he sold projects to networks such as Nat Geo WILD, Great American Country, CW, Oxygen and Travel Channel. Svet also worked as a producer on truTV's "Full Throttle Saloon," History's "Top Gear" and Lifetime's "Love Handles." Another position on his resume is manager of development at BBC Worldwide. Igal tell us that when in college at Boston University he won the Howard Stern Scholarship, which meant he landed a summer internship with the radio host. A memorable moment was asking Slash to put out his cigarette in the green room. "That did not go over well," he says. "I learned a valuable lesson that day: Don't ask rock stars to behave themselves." Another fun fact about Igal: Every city he's moved to has won an NBA title. Boston, LA and more recently, Miami. "It looks like the Washington Wizards are next on deck!"
Naimah Holmes
Holmes has worked at Nat Geo Channel since 2012, when she joined as manager, development & production for the West Coast division. Prior to that, Holmes worked with Eyeworks & Reveille LLC (Shine America) as a story and field producer, on shows including "The Biggest Loser," "Master Chef," "The Buried Life" and "One Born Every Minute." Holmes also worked in the New York City film and documentary scene as a production coordinator, associate producer and talent coordinator for companies like Lionsgate, Fox Searchlight, RDF Media, Broadway Video and MTV Studios. Naimah is a major animal lover. "I can't resist saving animals in need," she says, and has a full house adopted pets: three dogs, a cat and an iguana. She also loves pushing limits with extreme sports. She's completed three Tough Mudders with a marine team that carried Tequila in their water packs.
Clara Kim
In other news at the network, Clara Kim has been appointed evp, business and legal affairs for National Geographic Channels and National Geographic Channels International. The move is part of a restructuring to bring all of Fox Network Group's business, legal affairs and broadcast standards teams under one umbrella. Kim's responsibilities include oversight of business and legal affairs relating to National Geographic Channels' domestic and international businesses. Previously, Kim was general counsel and co-founder of Multi-Verse Media, LLC, for two years. She has also served as evp, global business and legal affairs for Discovery Communications and held various general counsel and senior legal positions at Spike TV, Nickelodeon, MTV Networks International and Showtime Networks. Kim worked as a corporate attorney at Shearman and Sterling in New York as well. Clara tells us she hiked the Inca Trail to Machu Picchu—before she knew it would help my career at Nat Geo Channel. Another fun fact: She accurately predicted all of the 2014 Oscar winners (except for Best Short Film, Animated). "I won my friends' 20th annual Oscar pool—with the highest scoring ballot ever," she says.
Eric Ratchman
Eric Ratchman has been promoted to svp, global distribution and strategy for Disney and ESPN Media Networks. In addition to managing the domestic affiliate sales and marketing business strategy group, he'll oversee the global distribution business operations and strategy team for Disney Media Distribution. Ratchman's last post was vp, business strategy for the affiliate sales and marketing group. He'll continue to be responsible for distribution development opportunities across Disney and ESPN Media Networks' platforms, including the development of negotiation strategies for the affiliate sales and digital media teams. He came to ESPN in 2005 as senior manager, business strategy and development. Other roles include senior director, affiliate sales; senior director, business strategy and development; and finally, vp. Before ESPN, Ratchman was a manager of strategy and business architecture at Accenture and a business analyst at Abbott Laboratories. Regarding the latter, Eric tells us that in college he studied biochemistry and performed research into the anti-cancer compounds in garlic prior to starting a career in cancer diagnostics at Abbott Laboratories. Also, he's a lifetime fan of Legos. "I love nothing more than digging into a big box of bricks with my kids," he says.
Dan Teitscheid
MAVTV has hired Dan Teitscheid as vp of content distribution & partner marketing. He's worked in TV for 23 years, including 16 years at Viacom, at roles such as vp of affiliate sales and marketing at MTV Networks. In May 2008 he joined Disney and ESPN Media Networks. Dan lives in Newport Beach, CA, and has been a surfer fom the past 30 years. These days, however, he spends most of his free time on a pool deck watching his three kids play water polo.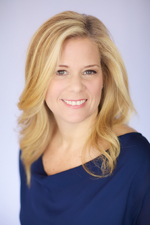 Friday Abernethy
Univision Communications has appointed Friday Abernethy as svp, content distribution. The newly created role entails oversight of content distribution efforts with cable, satellite and telecommunications distributors, involving linear networks Univision UniMás, Galavisión, Univision Deportes, El Rey, and the company's digital offerings. Her last post was evp, distribution sales and marketing for TV Guide Network. Prior to that, she was vp of national accounts/field operations for content distribution at MTV Networks and held posts at GE Capital, a division of General Electric and JP Morgan Chase. Friday tells us that as a child she lived in Kinshasa, the capital and largest city of the Democratic Republic of the Congo. Also, her twins were born on two different days—16 hours apart!
Iness Pleus
Iness Pleus has been upped to svp, operations, brand marketing & creative for Spike TV. She'll lead day-to-day ops in the creative and marketing groups, which includes project management, staffing and support technologies. She was previously vp, operations, creative group. Pleus joined Viacom as a production assistant at Nickelodeon in 1992, and then worked at global branding company Lee Hunt Associates and broadcast agency Razorfish, Inc., before returning to Viacom in 2002 as an operations consultant at TNN. She has also worked at Spike with the operations and on-air promotions teams. A little-known fact about Iness is that she met her husband at the company holiday party. Also, she's a big fan of "So You Think You Can Dance" and is pretty sure that she and host Cat Deeley would be really great friends.