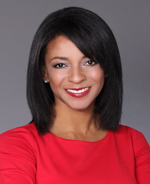 Michelle Strong
Michelle Strong was upped to svp, distribution, national accounts for A+E Networks. She and her team are charged with securing distribution and revenue growth for the networks and work with digital media and business development to negotiate multiplatform products across its platforms. Strong's last post was vp, national accounts for AETN. Prior to joining the company, she was senior director, national accounts for Disney and ESPN Media Networks for four years. Before that, she was vp of affiliate sales at BET. Michelle tells us she grew up in a military family. "As a kid I lived in five states, and Germany," she says. She's also a mom of twins. "There is a significant community of us in the industry!" she notes. True story. A couple more fun facts about Michelle: She's really good at following instructions. "I'm the person family and friends call when they need things put together," she admits. And lastly, my favorite: her cookie of choice is Thin Mints. Though you don't have to have been one to enjoy them, she was indeed a Girl Scout.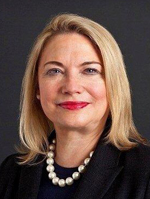 Lindsay Johnston
The Society of Cable Telecommunications Engineers (SCTE) has named Lindsay Johnston svp of operations. As Comcast Programming Properties' svp of human resources, Johnston was instrumental in shaping the post-merger transition of employees in the department to NBCU—which included a staff of 5,000. She also served as division svp, human resources for Comcast Cable. Before joining the MSO, Johnston worked for more than 15 years in the utility industry, as deputy general counsel and later vp, human resources with power pooling company PJM Interconnection and PECO Energy, an Exelon company. At the latter she was assistant general counsel; director, human resources; vp, human resources; and vp, Exelon university relations/energy delivery diversity and staffing and PECO human resources. Earlier on, Johnston was an attorney for Verizon Communications as well as vp, human resources for Autotrader.com and an associate with Morgan, Lewis & Bockius in Philadelphia. A proponent of the phrase "work hard, play hard," Lindsay does a lot for fun. She plays doubles tennis and enjoys reading (currently Supreme Commander, a book by Steven Ambrose on Dwight Eisenhower, featuring "some great leadership lessons in it on collaboration"). She also enjoys giving back to the community, to organizations such as her local United Way, and is passionate about mentoring young women. "I find I get as much out of the mentoring relationship as I give," she says. "It is a great way to stay in touch with what the next generation is thinking and doing in the business world."
Ron Wagner
Ron Wagner has been tapped by FilmTrack, a cloud-based software and rights management company, as director of product management. He comes from the Comcast Programming Group. His most recent role was vp of IT Operations at Comcast Programming Group. Ron tells us he paid his way through college working as a bodyguard for executives and actors/actresses. "I wanted to be a police officer, but I quickly ended up in media and entertainment after college," he says. "Today, I enjoy snow skiing and spending time with my wife and three children."
Deirdre O'Hearn
Deirdre O'Hearn has been appointed svp, programming and development for Food Network and Cooking Channel. She'll take over responsibility of the programming team, lead development strategy for programming and manage relationships with outside production partners. Her last role was vp, development & talent for WE tv, and prior to that she was vp at the NY office of Darlow Smithson Productions, a producer of nonfiction media. She also spent 16 years at AETN, most recently as vp of nonfiction and alternative programming, and worked as director of programming for Biography Channel. We learned a great story about Didi: During her time at Amherst College, one fraternity accepted women into their order. Initiated and still a "legacy" member, Didi not only knows the fraternity's secret handshake, she still occasionally receives mail mistakenly addressed to Brother O'Hearn.
Paul Duong
TV One has hired Paul Duong as vp of programming and scheduling. He comes from The Weather Channel, where he served as senior director of program scheduling for content and development. Other roles include vp of program planning and research at Speed, executive director of research at Disney-ABC Cable Networks Group and manager and senior analyst of research and programming at Sony Pictures Television International. Paul tells us he owns more than 200 Mariah Carey CDs. "I collect multiple copies of her music, many of which are shrink-wrapped and unopened," he says. Also, he DVRs football games to watch them later—even though he already knows the outcome and score.