Randy Rovegno
Ovation has appointed Randy Rovegno to the post of vp, content distribution marketing. He's responsible for b2b affiliate communications and developing marketing programs for distributor partnerships. Before joining the network, he was an agency executive for six years, which included founding Longboard Marketing. There he worked on strategic marketing for networks such as ESPN, NBC, ABC Family and others. Rovegno also served on Fox Cable Nets' distribution marketing team and has held marketing posts at BroadbandSports.com, The Bradford Exchange and The Upper Deck Company. Randy is both a surfer and a stand up paddle border, he tells us. That's in part why he titled his book of case studies and tactics "The Surfer's Guide to Marketing." Bonus: He got the surf icon Laird Hamilton to write the forward. More fun facts about Randy: He's a former editorial cartoonist and he played semi-pro football.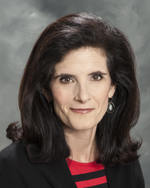 Cheryl Bloch
WE tv has named Cheryl Bloch svp, scripted programming. She moves to the role after serving as a senior consultant for the network. Bloch was behind the greenlighting of WE tv's first scripted series "The Divide" airing in 2014 and has had her hand in numerous other projects currently in development. Before joining the network, she was svp at Jennilind Productions, where she developed comedy and drama series with Billy Crystal as part of his exclusive HBO deal. She also served as vp, drama development at Fox Broadcasting, where she developed series such as "24." Other former roles include svp, current programming at Universal Studios and president of Brand/Falsey Productions, a Warner Bros. company. Cheryl tells us she recently completed a M.A. in Spiritual Psychology at the University of Santa Monica. "I have always had a deep affinity for women's stories and their unique voices," she says. More things she loves: cooking and bringing people together in her home, film festivals (especially Sundance), swimming, hiking, reading and traveling to places she's never been. But most of all, she's enamored with her my two sons, Alex and Nick.
Sylvia Aguilera-Hart
NUVOtv has hired Sylvia Aguilera-Hart as vp/creative director of on-air promotion, a newly created position. She comes from NBCU, where she's been vp, on-air promotion since 2006 and prior to that director, on-air promotion. She was behind on-air campaigns for "The Voice," "The Office" and other series, and oversaw the launch of Spanish language novelas, reality programs and the first Olympics broadcast on Telemundo. Additionally, she acted as writer, producer and editor in the on-air promo group at ABC Television. Sylvia tells us she enjoys golf, tennis and reading, and her proudest accomplishments are her three sons, ages 22, 20 and 15.

Steve Rowley
Cox Communications has tapped Steve Rowley as svp of Cox Business. He'll lead strategic direction of the $1.6 billion business in sales, operations, product development and marketing for business customers. Previously, he was vp of Cox Business, and before joining Cox in 2010, he held the roles of vp of partners channels, vp of enterprise and vp of general business at Sprint. He also held leadership roles at People's Choice TV.