Cisco, Avaya Tighten Enterprise Voice Grip
New data from TeleGeography partner Synergy Research Group show that enterprise voice-equipment revenues reached $2.4 billion in 4Q11, bringing total revenues to $9.6 billion for the year.
The market has plateaued over the last three years, the group says, with quarterly revenues staying within a fairly narrow range of between $2.3 billion and $2.5 billion. While total market size has remained stable, the market segmentation is shifting. From 2009 to 2011, the IP telephony segment of the market grew from 61 percent to 66 percent, leaving traditional PBX/KTS/hybrid systems to account for an ever-smaller share equipment revenues.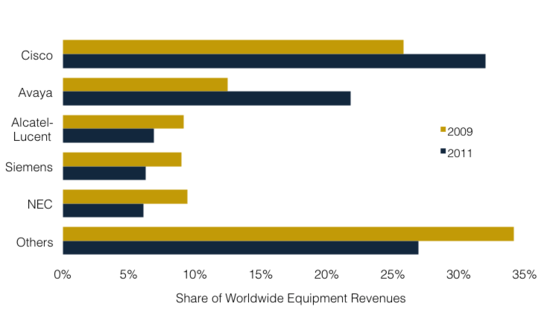 The shift from traditional phone systems to IP technology has resulted in significant changes in vendor market shares. Cisco and Avaya have increased revenue markedly since 2009, primarily at the expense of their European and Asian competitors. Cisco's market share increased from 26 percent in 2009 to 32 percent in 2011, while Avaya made even greater gains, growing from 12 percent to 22 percent of global enterprise voice equipment revenues.
All leading Japanese vendors have lost market share, chiefly to Cisco and Avaya. Cisco and Avaya have increased their combined market share in the Asia-Pacific from 21 percent to 37 percent since 2009.