Chattanooga Leads The Charge For Fast Internet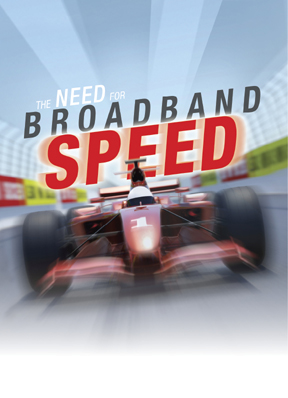 It's not an everyday occurrence when a utility makes national news, but that's exactly what the city-run public utility EPB, in Chattanooga, Tenn., did recently by building a gigabit passive optical network (GPON) that offers the highest-speed broadband Internet in the country.
EPB is the first U.S. Internet provider to reach the gigabit-per-second mark, boasting download speeds more than 200 times faster than the current national average. The new service also beats by years the FCC's goal of at least 100 Mbps (download) and at least 50 Mbps (upload) by the Year 2020 as part of its National Broadband Plan.
Via this new network, EPB is offering a triple play of voice, video and data while using its communications network for a new a smart grid to monitor and manage energy usage.
The EPB case study is interesting from a technical stance alone but, from a high-level competitive viewpoint, it's bad news for cable operators, once again highlighting the trend of municipalities in smaller cities entering the communications business.
By the end of this year, EPB will offer 1 Gbps symmetrical Internet service to all 170,000 homes and businesses in its area that spreads across 600 square miles. The company is hoping to lure new businesses to Chattanooga, especially software and technology companies. In addition to its triple-play offering, EPB is using its fiber network as the backbone for a smart grid. Thanks to a $111 million U.S. Department of Energy grant, progress on EPB's smart grid is two years ahead of schedule, with full rollout to all homes and businesses to be complete in 2012.
EPB COO David Wade says the utility has offered phone service and Internet to businesses for some time but, in 2007, it decided to build a fiber-to-the-home (FTTH) network.
"Our mission statement is to enhance the quality of life in the community," Wade explains. "Broadband capacity to Chattanooga is paramount to economic development. There are other communications providers here. We obviously felt the need was greater." Comcast and AT&T are the incumbent providers.
"We started offering video, voice and data, Sept. 15, 2009," Wade says. "We went through the deal of putting in OSS and BSS systems, doing a lot of development in that arena the past year."
EPB is offering Internet speeds of 30 Mbps for $57.99 per month and ratcheting to $50 Mbps for $69.99, 100 Mbps for $139.99 and 1 Gbps for $349.99. "The base product is 30 megs, and you actually get it," comments Wade. "It is wonderful. I can watch a show on Netflix, and my children can be on different PCs and coexist."
As far as the 1 Gig service goes, Wade says: "I hear people say nobody needs this kind of upload speed but, if you look at our total traffic back to the Internet cloud, we see almost as much traffic upstream as we do downstream. And the upstream traffic is more consistent throughout the day."
EPB contracted with Alcatel-Lucent as its GPON network supplier. "We've designed our network a little bit different, with our control center located where our operations center is," says Wade. "We've designed a series of fiber rings that circle our city, allowing us to have multiple 10 Gig MPLS rings, terminating in 17 communications hubs connected back with our control center."
The communications hub is the last piece of electronics in the system until signal reaches the optical network terminal (ONT) on the side of a house. Although some of EPB's service area is extremely rural, all of its communications hubs are within 20 kilometers of even the farthest user.
Alcatel-Lucent deployed the following gear into the EPB network: a 7342 Intelligent Services Access Manager Fiber-to-the-User (ISAM FTTU), a 5520 Access Management System (AMS), a 7750 Service Router, a 7450 Ethernet Service Switch, a 5620 Service Aware Manager and a 5750 Subscriber Services Controller along with an OmniSwitch 6850 Ethernet LAN switch. In addition, Alcatel-Lucent is providing a complete portfolio of professional and consulting services.
According to Richard Loveland, director of marketing for wireline networks at Alcatel-Lucent, "(EPB) have already got facilities that serve electric past all these houses. When you look at their plant, it's 80-percent aerial and 20-percent underground. The aerial plant makes that a fair amount cheaper, and they already have all the rights-of-ways."
The Video Headend
Mega Hertz built the video headend and delivery system for EPB. "Our duties and responsibilities with EPB were strictly with the video network," says Steve Grossman, product manager at Mega Hertz. "In 2008, we were contracted with the city of Chattanooga to engineer, furnish and install their video headend. They were familiar with Mega Hertz because they had investigated the system in Lafayette, La., which we had built."
Grossman is referring to the Louisiana Utilities Services, a municipally owned utility that operates a broadband fiber deployment in the city of Lafayette. Louisiana Utilities Services blazed the trail for other municipalities by engaging in a fight with incumbent cable and telephone providers that went to the state Supreme Court. (For more on LUS, go to www.cable360.net/ct/sections/features/41976.html)
For Chattanooga, Mega Hertz built a traditional CATV headend with 13 antennas in a satellite farm. But unlike a traditional cable headend, EPB's deployment delivers IPTV in MPEG 4 format while transmitting analog video over fiber optics for basic services.
"There are no MPEG 4 headends in cable today," Grossman points out. "Because they have all these legacy (MPEG 2 set-tops) in place, to move to MPEG 4 would be very difficult. But in a greenfield, you can do anything you want."
For the EPB headend, all programming arrives via satellite in MPEG 2, as it does for any cable headend. But then the content is converted to MPEG 4 and moved out over the IPTV network to MPEG 4 IP set-top boxes. In addition, EPB runs an MPEG 2 QAM system to send analog "lifeline" signals to homes without set-top boxes.
Jim Feola, manager of engineering and system integration at Mega Hertz, explains the reasoning for offering parallel MPEG 4 and analog services in this way: The utility is able to hook up the subscriber to the fiber network and distribute the digital video to the nearest hub where it is then decoded to analog. The company can sign up a new subscriber without having to deploy a set-top box and just distribute standard RF services. This is a nice community service for some customers, who can receive 67 channel offerings on analog.
"Because of the structure of GPON for transport, we're piggybacking a wavelength," says Feola. "We're not stealing bandwidth from the IP side or from the data or phone offerings. There's no extra effort. It places equipment on the side of house. As the customer gets more involved, they may switch to a triple play."
Tapping Microsoft
EPB also is using Microsoft Mediaroom for its middleware. Says Feola, "With the choice of Microsoft Mediaroom comes a whole new set of engineering thought and architecture. It has its unique challenges. Adds Grossman, "SA and Motorola platforms have dominated; everyone's very familiar. Microsoft Mediaroom is still growing, developing."
Of course, the Mediaroom platform offers such future-proof service opportunities as cloud digital video recording (DVR), interactive applications, advanced advertising possibilities and access to service on multiple screens. As far as merging the video portion of EPB's project with the fiber rollout and the smart grid, Feola says, "It really had no effect on us. We weren't sidetracked because of the other activities for our realm."
But he did acknowledge the project management from EPB was stellar: "When you run a project like this, of synching all of these disciplines together, it is rather overwhelming."
The Stimulus Factor
The U.S. Department of Commerce's National Telecommunications & Information Administration (NTIA) and the U.S. Department of Agriculture's Rural Utilities Service (RUS) are administering a nearly $7 billion Recovery Act initiative to expand access to and adoption of broadband services.
The FCC's National Broadband Plan calls for at least 100 million U.S. homes to have, within the next decade, access to actual download speeds of 100 Mbps and upload speeds of 50 Mbps. Cable touts DOCSIS 3.0 as a method to achieve these goals, using existing infrastructure. But for utilities and municipalities starting from scratch, it's more logical to build a fiber network. GPON often is their chosen solution.
For example, Zhone Technologies announced in September that it was contracted by Yadkin Valley Telephone Membership Corporation to expedite its FTTH project as a result of $21.6 million broadband-stimulus award. The N.C.-based operator will use Zhone's technology to deliver triple-play services to more than 39,000 customers. During the next three years, Yadkin will use Zhone's MXK intelligent GPON solution as well as its zNID optical network terminals.
Yadkin had been using Zhone's ADSL2+ and POTS systems to deliver high-speed data and advanced voice services to customers within its service region for many years but it decided to upgrade to Zhone's GPON technology in 2007 as part of a FTTH plan. The recent stimulus award will enable Yadkin to expand the project more quickly.
New Fiber Builds
Brian Caskey, chief marketing officer at Zhone Technologies, says Verizon took a leadership role in the passive optical network (PON) arena and selected Broadband PON (BPON) as the standard for its FiOS rollouts.
"(Verizon) chose BPON and ran with that," says Caskey. "What's happened over time is that GPON has become more popular because it's got better throughput. The future is GPON; it's a different ITU standard."
Zhone recently announced it has shipped 600 of its MXK systems worldwide. The MXK is a multi-service device that supports Active Ethernet and GPON. It sits in a central office that terminates the fiber connections that go to a passive device in the field. From the field, the fibers are split and then go the last mile to the premise, where they terminate at the ONT.
"We're seeing tremendous growth in the United States," Caskey adds. "As stimulus awards take effect, we expect we'll get a good portion."
More MSO Competitors
There have been more announcements of late from new entrants in the triple-play space, including utilities, telcos and municipalities. In September, Calix announced that the towns of Concord, Mass., and Highland, Ill., both had selected the Calix Unified Access portfolio for their advanced broadband initiatives via fiber builds.
Concord and its wholly owned and operated utility Concord Municipal Light are building a smart grid combined with a GPON network. The fiber-enabled smart-grid system will allow residents to monitor their energy use proactively via Google's PowerMeter energy-monitoring tool.
And in 2009, Highland, Ill., began planning and issuing the first in a series of $18.8 million worth of bonds for the purpose of operating its own broadband network. The city selected a combination of Calix C7 Multiservice Access Platforms (MSAPs), E7 ESAPs, and the family of 700GX/GE ONTs to offer voice, video and high-speed data services capable of delivering as much as 1 Gbps to each premise via GPON and point-to-point Ethernet technologies.
Linda Hardesty is associate editor at Communications Technology. Contact her at lhardesty@accessintel.com.