Casting the New 'Dora the Explorer'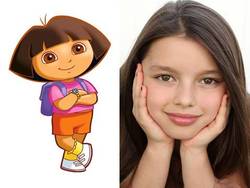 Though they may not have realized it, last week fans of Nickelodeon's "Dora the Explorer" cartoon were introduced to the character's third incarnation, actress Fátima Ptacek. CableFAX spoke with Teri Weiss, svp, production and development, Nickelodeon Preschool, about the auditioning process for the pintsized Latina heroine.
What's the process for ensuring her voice was similar to the last Dora? How do you create a seamless transition?
When we cast for the new Dora, we're actually not looking for a voice match. We look more for the qualities of the character and type of voice in an actress, in terms of performance. In fact, when the girls first audition then don't know they're auditioning for Dora. Part of that is [because] we're looking for the qualities of the Latina heroine. Does the actress exude a certain confidence? Does she sound like a little girl who's a leader? Does she have a certain warmth about her voice, where she immediately—to our young audience—feels like your best friend? That's our priority whenever we're looking for someone to play the part. Part of what we want is a freshness and exuberance that comes through the actress naturally. The most important part of it is the acting performance and kids' ability to fall in love with her.
Do the girls' voices factor in later on in the process?
Once we start to narrow them down, most of the girls—if not all of the girls—we have auditioned have grown up on "Dora." There's a certain cadence to the way she speaks that they capture. It's almost innate since they've been hearing that voice since they were 2, 3, 4 years old. So they start to embody certain aspects of the character in terms of delivery. If you played them back-to-back you would hear differences. But from one episode to the next, even when they watch on the Nick Jr. channel—and we may have different episodes from different seasons air—I don't think it's perceptible in a way that would deter kids from falling in love with the new Dora.
How long has each Dora lasted so far? Do they leave when they grow up?
It has varied from actress to actress, in terms of how long they've done the part. Every year the creators listen to the last record at the end of the season to hear whether or not they think we're at a point where we need to look for a new actress, or whether they think we've got another season. It's really about kind of the effervescence she brings to the role. She's playing a girl who's 7 years old. When you listen to her do you still believe that she's 7, and has that kind of charm and warmth that a girl roughly in that age sounds like? Are we at a place where we have to find a new actress?
Do you use focus groups for casting? Moms, or even kids?
We don't. The creators listen, and they really know what they're looking for with that. But from a research standpoint, in terms of a show's appeal, we are absolutely are testing the show with kids, 2-3 times per episode—in terms of appeal and comprehension, and the way that the games are working.
Is the audition process similar with other preschool shows?
It's a similar process. At the end of every season the creators sit down and listen to all of the kids. We love the authenticity and adorable voices that real little kids bring to these roles, as opposed to casting with adults. Everybody is listening for the kind of actor or actress that really embodies the character.