Call Lifetime Crazy… But 'Five' is Powerful Stuff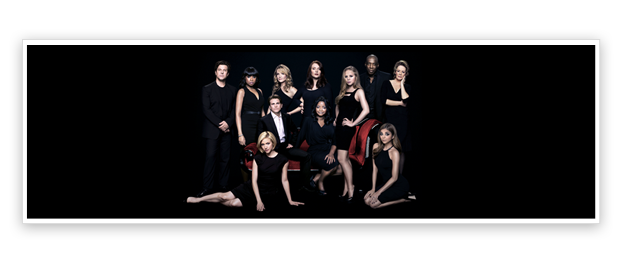 Lifetime captured a lot of buzz last year when it tackled breast cancer in its compelling "Five" film project, stringing together five character-driven stories of strife and survival. The attention largely stemmed from the involvement of executive producer Jennifer Aniston—but it also radiated from powerful writing and performances. Now Aniston, along with co-EP and BFF Marta Kauffman, are trying to repeat their freshman success with the mental-illness focused sequel "Call Me Crazy," which premieres on Lifetime on April 20, 8pm ET. At a red-carpet premiere party and screening last night at L.A.'s Pacific Design Center, Lifetime's Dubuc and other execs mingled with talent and producers involved in the project, munching on sushi and bacon-wrapped dates before the screening. And quite a screening it was.
To be sure, Aniston's A-list involvement, as well as the persuasive mojo of AETN pres, entertainment and media Nancy Dubuc and Lifetime programming chief Rob Sharenow, continues to attract major stars both in front of and behind the camera: Laura Dern, Bryce Dallas Howard, Bonnie Hunt, Ashley Judd, Melanie Griffith, Jennifer Hudson, Octavia Spencer, Melissa Leo, Jean Smart, Lea Thompson, Chelsea Handler, Brittany Snow, Sarah Hyland… and the list goes on. They're all involved with Call Me Crazy, which explores schizophrenia, bipolar disorder, depression and post-traumatic stress disorder.
Perhaps most interesting about Call Me Crazy is that it focuses as much if not more on those affected by the mentally ill than those actually suffering from the disease. And it does so in a way that brings home the guilt, blame, self-doubt and other emotions that often swirl around friends and families dealing with victims. It's not a sugar-coated look at how love conquers all. When schizophrenic Lucy (Brittany Snow) comes home for a visit, her sister Allison (Sofia Vassilieva) shows her nothing but contempt—still angry that Lucy's illness has become the center of attention. As we watch a mom (Melissa Leo) careening into bi-polar oblivion, we feel the most sympathy for her loving and appropriately named daughter Grace (Sarah Hyland), who is heartbroken over her mom's refusal to stay on her meds. Depressed comedian Eddie (Mitch Rouse) puts his wife Julia (Lea Thompson) through hell as he skates dangerously close to suicide. And when Maggie (Jennifer Hudson) returns from war, her military father tells her to shake off her supposed PTSD—until he realizes it wasn't from the battles but from her commanding officer repeatedly raping her in the field.
This is an unflinching look at mental illness. Perhaps most skillful, however, is writing and acting that doesn't take the easy way out. It refuses to preach to the audience or shake its head at us as if we should all know better than to misunderstand these tortured souls. Rather, it lets the characters struggle and stumble on their own, often spreading their internal misery to those around them, who want nothing more to help—but who in their more frustrated moments, feel unfairly trapped and victimized themselves. In the end, each story closes on a hopeful note. But it's never a clear victory or resolution. Just a chance that better days are ahead. And when it comes to mental illness, that promise can be its own cure.