Cable WiFi – Where To Find It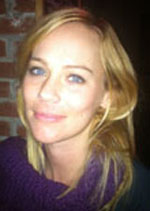 Kaylee Hultgren
Recently I found myself sitting on the steps of a church in Brooklyn in need of WiFi service. I certainly didn't expect to get any. However, to my surprise, those church steps happened to be within a CableWiFi hotspot. And as a Time Warner Cable broadband subscriber, I was granted access immediately once I opened up my browser. I didn't even have to type in my long, ungainly password (which I'd long forgotten anyway) in order to get access.
The situation got me to thinking: Does everyone know about this, and appreciate it as the value-added service that it is? We've written about the WiFi partnership between Bright House, Cablevision, Time Warner Cable, Comcast and Cox, where subs can access WiFi from any of those providers via "CableWiFi" hotspots across the country. But how do you know whether you're sitting in the middle of one? Some operators have location maps online for subs, and others have apps as well. But since you need to get online in the first place to access that map, I'd say apps are the way to go for this service. Here's a rundown of where authenticated WiFi is available, including maps and apps if the provider offers them.
Cox
Cox is the most recent MSO to get in the WiFi game. It launched WiFi access in Northern VA and CT markets first, and recently made CableWiFi, available all subs in its footprint in Comcast, Bright House and Cablevision markets. Subs just need to have Preferred, Premiere or Ultimate High Speed Internet service. To find an area with a hotspot, either CoxWiFi in CT and VA or CableWiFi,
here's a map
.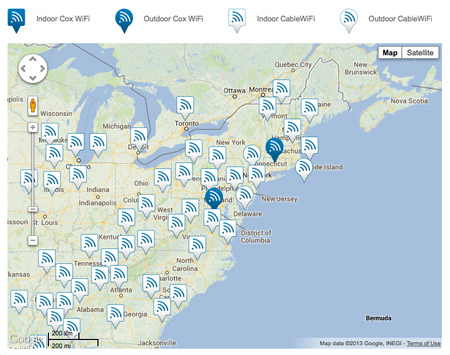 Bright House
For Bright House subs, the MSO provides
a map online
. You can check for hotspots by state or city, business locations and public locations, in Bright House markets and CableWiFi spots. There are
support videos
to help you out if needed.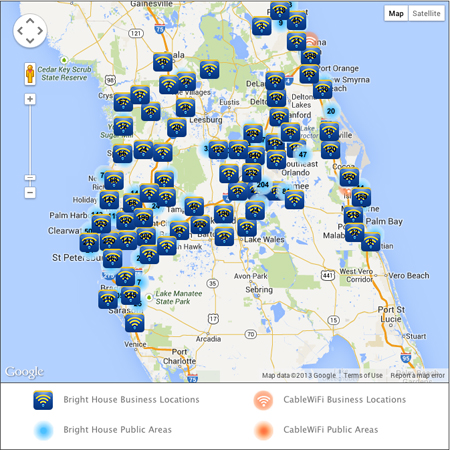 TWC
Time Warner Cable has WiFi in Southern California, NYC, Charlotte, Kansas City, Austin and Hawaii. The number of spots is up to more than 20,000 at this point, including an initiative with Cablevision to provide WiFi in 32 NYC parks. For a coverage map the MSO has
a website
and also a WiFi Finder app that provides addresses, maps and distances to the nearest hotspots.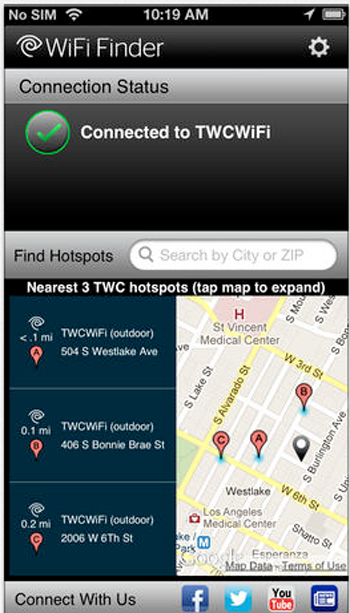 Cablevision
The MSO just increased its coverage to 100K spots in the Tri-State area. Its markets include Long Island, Bronx and Brooklyn, parts of New Jersey, Westchester/Rockland/Hudson Valley and Southern CT. Like TWC, there's a free WiFi map for Optimum hotspots. Alternatively, you can check out
optimum.net
.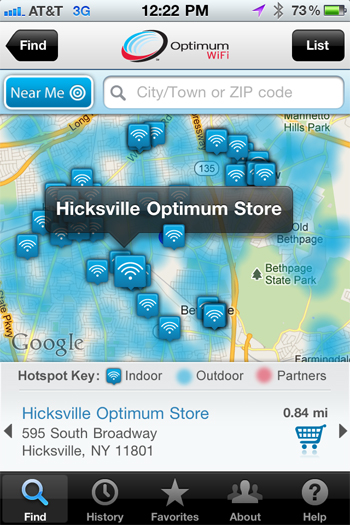 Comcast
And then there's Comcast. The provider's most recent hotspot and CableWiFi count was around 250,000, within the Greater Philadelphia area, Boston, Chicago, Atlanta, Washington, D.C. area, and California, in addition to parts of New Jersey, Maryland, Virginia and Delaware. Comcast offers three different types of WiFi access for subs: large, metropolitan indoor and outdoor hotspots, like parks and shopping malls; small business establishments; and the newest and most prevalent type—"neighborhood" hotspots. The latter are both private and public, meaning they emanate from homes with WiFi service but allow friends and visitors to access WiFi within a subscriber's home using his or her own sign-in information. The idea is to keep the sub's signal secure by providing an extra Xfinity WiFi signal in the home for visitors. Subs with performance tier and above for residential customers and starter tier and above for business customers are able to access the hotspots. They can be found here
Xfinity.com/wifi
and with a finder app as well.