Cable Center Hall of Fame 2013 Honorees – Q&A With Providence Equity's Dick Parsons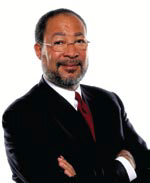 Dick Parsons, Senior Advisor,
Providence Equity LLC
Another year, another group of worthy executives join the ranks of the Cable Center's Cable Hall of Fame. It's a prestigious group that will join 96 men and women who have been inducted into the Cable Hall of Fame since its formation in 1998. We took some time to ask them all about their experiences in the industry. The following is a Q&A with Dick Parsons, Senior Advisor, Providence Equity LLC. Hear more of what they have to say at the Cable Hall of Fame Celebration in Washington, D.C., on June 10 at the Ronald Reagan Building, and go to cablecenter.org for more info.
CableFAX: Time Warner Cable took its first steps to being completely separate from Time Warner Inc. during the end of your tenure. Looking back, would you have spun it off sooner?
Parsons
:
No. We had material tax reasons for delaying the spin until 2009.
CableFAX:
Comcast did the opposite by joining up with NBCUniversal. Have you any advice for Brian Roberts?
Parsons
:
I can only offer my good friend Brian my best wishes for success. It's a hard challenge to successfully put these companies together, but if anyone can do it it's Brian and Steve.
CableFAX:
You've been active in working with the Obama administration on creating jobs. Are we making much progress?
Parsons:
Yes, progress is slow but steady. We now need to stay the course.
CableFAX:
As one of the few African-American CEOs running a large public corporation in America, what sort of legacy do you think you left behind? And what needs to happen before we see more people of color in CEO roles?
Parsons:
From a legacy perspective, I think (hope?) people say that I left the company in good shape and in good hands. The answer to the second question is simply time.
CableFAX:
The industry is in an incredibly complicated transition period right now. What would have been your business approach had you faced OTT competitors early in your career?
Parsons:
Cable can stay in the lead if, as an industry, it keeps innovating; providing evermore new, convenient and value-adding services to the consumer. My approach would be to encourage – and fund – greater innovation.
CableFAX:
What's your favorite HBO show today?
Parsons:
Game of Thrones.
CableFAX:
What does being inducted mean to you?
Parsons
:
It is a great honor to be included in the company of so many iconic American business men and women. I am deeply humbled.