An Interview with W. Kamau Bell of FXX's 'Totally Biased'
When it comes to late-night TV, FX's "Totally Biased with W. Kamau Bell" is breaking new ground as an infectiously funny examination of America as a flawed but hopeful country—all while tackling taboo subjects like race, poverty and sexual politics. Bell honed his progressive brand of comedy on the San Francisco comedy circuit. It's late-night comedy for intellectuals and hipsters, and we sat down with Bell to explore the show's goals following its recent move from FX to youth-skewing FXX.
Most people had never heard of you before this show—although you certainly had quite a following in San Francisco.
I certainly conquered the Bay Area comedy territory, but nobody was really trying to conquer it. There are a lot of comics up there, but as soon as they get a few minutes together they move to L.A. or New York. I was married and my wife was pregnant, so I was like "I have to stay here for a little bit. And while I'm here, I'm going to try to conquer this territory."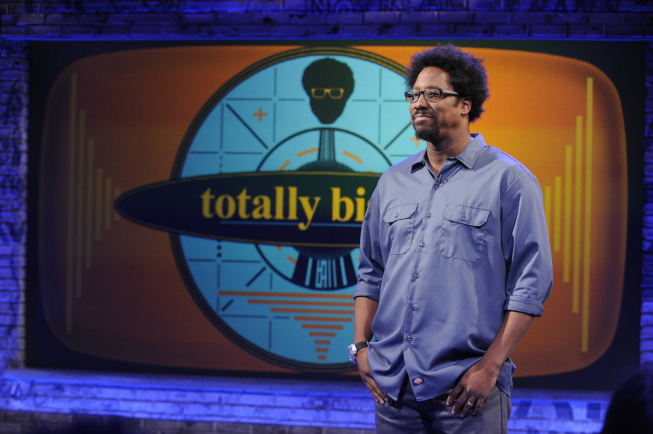 How has switching from a weekly show on FX to a daily schedule on FXX changed your workflow?
Well, we've hired a few more writers. Really we've hired a lot more production staff because that's where the work really comes in. It's like dividing up all the tasks. And a lot of the comics who appear on the show and are also writers are doing a lot more on-the-street pieces. I feel like we've all sort of put our toes in the water, and now it's time to jump in the deep end. I will still do on-the-street segments too, but we'll also have the other comics do on-the-street pieces.
So it's a bit like the "Daily Show" set up in that you have a bunch of writers who are also comics and can contribute on-air?
Absolutely, when the idea for the show came up, "The Daily Show" was the type of show I was thinking of. The Daily Show, Colbert, Bill Maher. I always knew that I wanted to have other comics on the show. But one difference with the Daily Show is that our comics are speaking for themselves on the show; they're not playing a character. They may be playing a heightened version of themselves. But they're sort of saying things that they can stand behind.
So not as much satire of the news?
We satirize it, but we want to be able to stand behind the ways of being snarky about it. I know people who work on the Daily show, and they're all playing characters and news reporters. We're not playing characters and news reporters.
You're obviously also a little bit more in people's face, especially on racial issues. Is there something about humor that allows you to get into these areas that might otherwise make people uncomfortable?
Yeah. Absolutely. I think when we hit our sweet spot is when the show is funny enough that if you disagree with the thing, you don't notice it right away. You're just like "Oh, that's funny! But oh, wait a minute, that's against everything I believe." So I think the sweet spot of the show is that it's funny and just happens to be about the issues of the day. We don't always go at it from the angle that people are going to expect the show to go at it. We talk about that a lot in the writer's room. But we're not going to be anti-gay marriage no matter how funny the joke is. But even in that thing, we have to find a different way to get into it—like we did with "No More of Mr. Nice Gay."
Love the titles, by the way. Those are definitely one area similar to The Daily Show.
The Daily Show has really set down a blueprint of how it can be done, and it's really just up to us to tweak it to work for us. We're not exactly the Daily Show, but Jon Stewart—he knows how to do it. The thing that the Daily Show and Colbert both do is that you have to pay attention to every detail. You can't just put up some sort of title. No. Come up with a good title. Spend the time to really make something that makes sense.
It was always interesting that the show started on FX. It's kind of a blue-collar, white guy network, and here you are tackling urban and racial issues.
When Chris Rock was pitching the show, he didn't pitch to a ton of people. FX was probably the second place he took it. He knew where to take it. And he also knew [FX Networks pres] John Landgraf, and I think FX—it's like you said, it seems a little blue collar and white to me.
Its biggest show is about a white biker gang. It doesn't get any whiter than that, right?
Exactly. And it's a great show, but certainly it's not winning NAACP awards. Even though one of the principal producers and directors is a black guy, Paris Barclay. We can do everything. We're the Swiss Army Knife of races. But it's a great show, but the idea is that when you think about totally biased… But when they did "Louis C.K.," it's about a white guy, but it's not the same kind of white guy as say "The League" or "It's Always Sunny in Philadelphia" That's a very particular white guy. But Louie, to me, was the link to us. It was sort of a little more lyrical, like a more earnest urban white guy. I'm really earnest. So to me the earnest part was the link. Those things are great. I'm a big fan of "Wilfred" and Sunny—but I have a different tone. I think also that John Landgraf likes to take chances, and this show is definitely a chance. This comedian who nobody's really ever heard of gets a talk show. So certainly it was a chance.
He obviously has a lot of confidence in you, considering your move to FXX and a daily schedule.
The more we've gone on, the more we've leaned into the direction that we could get into. I'm really proud of the whole show. But gradually I feel like it's getting to place where I am with my standup where I'm just getting more sure of myself and not as apologetic. I think at first it was like "Oh, these cameras are all over the place, and these lights are bright and what are these clothes I'm wearing?" I think as the show goes on, I'm starting to pay less attention to that and more attention to executing the material.