An Interview with Jennifer Love Hewitt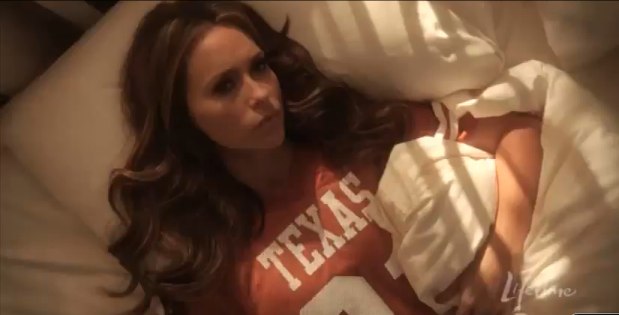 It's tough work, but we sat down with Jennifer Love Hewitt for a few minutes in L.A. to discuss her Lifetime show "The Client List," which premieres March 10. Yes, it's a show about some massage parlor naughtiness, but as Hewitt explains, it's also about a lot more.
CableFAX: What do you see as the main theme or message of the show?
JLH: I think fantasy versus reality. It's really a very human show even though the fantasy stuff is heightened. It really is about a mom who makes mistakes. And we all make mistakes. It's about how one lie can turn into a million, and how to catch up with that. It's about financially where we find ourselves right now in the world. It's about all that stuff. I like the humanity of it.
CableFAX: Have you ever wondered what you would do if the economy improves?
JLH: [Laughs] I thought the other day, 'What are we going to do if it suddenly changes?' But so far, I think we're okay.
CableFAX: Her financial difficulties do seem to be the main driver of the show. In season one, every time you think she's going to get out, she gets pulled back in because of financial need. To what degree does that continue to drive the show in Season Two?
JLH: That's definitely happening in Season Two.
CableFAX: So will she even have a moral judgment anymore—or has she just resigned herself to the idea that this is what she needs to do to take care of her family?
JLH: I think it's interesting. I think this season there's definitely one big moment where she'll judge herself. I think there are moments where other people will start to judge her a little bit. And I think hopefully—not so much in this season, but looking forward to Season Three—we will definitely answer those questions for people. The answer may be that Riley is not as perfect and innocent as we think she is. I definitely believe that there is something in a person who has to go and do this that needs it and wants it somehow. I don't think that makes her a bad person. I just think it makes her a different person than maybe she even thought she was. And it's interesting to see this season how much this has become a part of her life.
CableFAX: So she's obviously very complicated. What's the biggest challenge for you in playing Riley?
JLH: I think it's the duality. And I'm okay with people saying 'Oooh, she shouldn't have made that decision.' But we have to make sure that they still want to be on her journey. I still think that's the hardest part for us—telling an interesting story, pushing the envelope, not always having people root for every decision she makes, but to root for the journey that she's on and to want to finish it with her. That's her challenge.