A Small Town that Takes Comcast Cares Day to Heart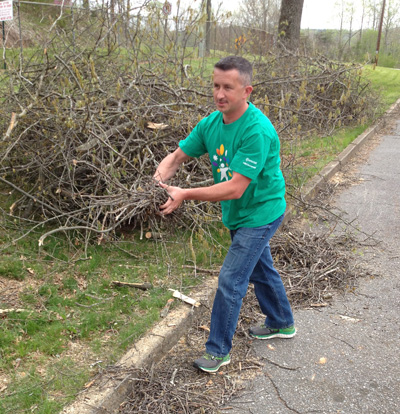 Comcast technician Will Koger participates in Comcast Cares Day.
Comcast technician Will Koger's then 13-year-old son didn't love his Boys & Girls Club's teen center back in 2008. Neither did his friends. And who can blame them? It had Care Bears painted on the walls.
"Like so many single families, I needed somewhere for him to go after school while I was working, so I got him enrolled in the local Boys & Girls Club and he would get bussed to their teen center. Their teen center was a converted daycare," explained Koger, who described himself as a single, foster adoptive parent at the time. "It wasn't a place teenagers wanted to go."
So, Koger decided to take advantage of his employer's upcoming Comcast Cares Day and put in a request for $500 worth of paint. His town, Martinsville, VA, isn't the largest. There are only about 20-something Comcast employees in the town. Nor is it the richest. It ranked as the country's 7th poorest city in the most recently released US Census Bureau's American Community Survey, with a median income of $32,196 and an extremely high unemployment rate of 15.7% in 2012.
"The employees here in Martinsville were all looking for a project to do for Comcast Cares Day. The year prior, we had to travel to the next system over to do Comcast Cares Day and we wanted to do one local," Koger said. He initially thought it would just be his son and him painting the teen center, but his coworkers all loved the idea. And so did the center's other children. Nearly 200 people turned out for Martinsville's first Comcast Cares Day, many of them kids from the Boys & Girls Club. "We had to call government affairs to let them know so many people were showing up. I never touched a paintbrush that day because I was going back to the store to buy more paintbrushes, rollers and more paint," Koger recalled.
People continued to come out. "The next year we had over 300 people. Every year it just kept getting bigger and bigger," he said. "The whole community started rallying behind something me and my son wanted to do for $500." Last year, the volunteer day drew 947 people. In addition to painting, Martinsville has used the volunteer day to build a computer lab at the teen center and complete renovations of the Club. Volunteers also have worked at schools in the community, planting flowers and gardens and beautifying them.
Comcast's annual day of service celebrates its 13th anniversary this Saturday, with Comcast and NBCU employees and their family and friends giving back to their communities. Comcast Cares Day has surpassed more than 3 million volunteer hours and $14 million in contributions to local non-profits since it began in 2001.
Martinsville, a small town nestled in the foothills of the Appalachians, had the 4th largest Comcast Cares Day project in 2012. This year, Koger has his eyes on the #1 spot. Many in Martinsville will use the day to work on renovations to an old community center that one of the town's former furniture manufacturers used to take care of before it closed. "It isn't just a one day event for us here in Martinsville. All of the Comcast employees are high school coaches, intramural coaches or leaders in their church or community. I am on the board of the Boys & Girls Club," he said. "We look at it as a Comcast Cares Day event, but Comcast always cares because Comcast is me and my fellow employees and we're active throughout the year."