A Quick Chat with Olivia Munn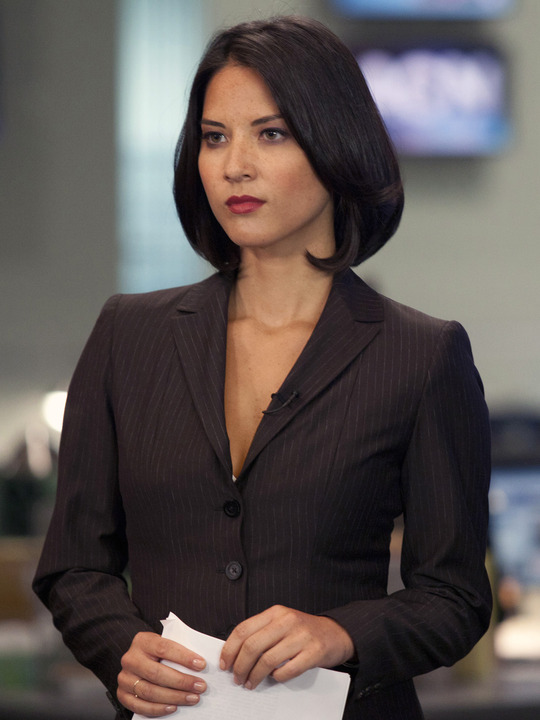 We caught up with Olivia Munn for a quick couple minutes on the Paleyfest red carpet in L.A. Sun night. She was there to promote HBO's "The Newsroom," now about halfway through shooting Season 2 for a July premiere, and Munn hasn't forgotten all the CableFAX love she has received over the years. Of course, it's a somewhat sarcastic memory. But you know… that's kind of why we love her.
CableFAX: So CableFAX has obviously been following you since your "Attack of the Show" days on G4 [now Esquire Network].
OM: Right. Right!
CableFAX: And AOTS actually won a CableFAX Program Award, which spurred an on-air segment involving you, Kevin Pereira and someone dressed up in a whale costume.
OM: Yes! Because we tied. We tied with "Whale Wars." And so we were deciding, how should we accept this tonight? And we thought, well… it's Whale Wars. They're saving whales. No wonder we would tie with them. I mean, that just makes sense. That was very exciting.
CableFAX: And it was the "Other" category, which makes it all the more prestigious.
OM: That's actually what I say to Aaron [Sorkin] or John Gallagher Jr.—people who have won Emmys and Academy Awards and Tonys—I just say, 'But have you won a CableFAX Award?'
CableFAX: (Nodding in solemn agreement) That's true. They have yet to be recognized by the CableFAX Academy.
OM: I say, 'Look, I know there are a lot of movies out there. I know there are a lot of acts on Broadway. But do you know how many cable shows there are? It's so much harder to win a CableFAX award! So much harder!!
CableFAX: OK. We get it. Nothing will ever top your moment in the CableFAX sun. So let's talk about "The Newsroom." Over the first season, your character Sloan gradually became a bigger part of the show. Will that continue in Season 2?
OM: Thankfully, Sloan did not take the job offer, and I'm still part of the newsroom. And she still has a passion for getting to the bottom of the story.
CableFAX: And the season finale seemed to indicate a romance of some type in Sloan's future. There was that moment with Don (Thomas Sedoski)…
OM: Maybe. Maybe not. There's a lot of stuff going on, and as some things develop, it's just like life… Some things are just a moment. When you think about any moment in your life, it's like 'Well, that was just a moment and it didn't need to become a whole thing.' And maybe it does. Where we're at right now, I know it's maybe, maybe not.
CableFAX: We hear the show is doing more on-location shoots in Season 2, getting out of the newsroom and into the field.
OM: Yes. Some other storylines.
CableFAX: How about for Sloan?
OM: I'll be going to New York to shoot some stuff out there. But no, it hasn't really affected me that much. I personally love shooting on a set. My OCD likes me in the same place… drive there from home, I got it… go to my set, I like that.
CableFAX: And you're at Sunset Bronson Studios in Hollywood, which I only know because of "The Daily Show" segment in which your former colleague John Oliver showed up on set in search of investigative journalism. Were you there that day?
OM: Yeah. I got to see John and all of them. So it was really fun to have that little moment and have that crossover.
[Click HERE to see the 2009 "Attack of the Show" segment in which Munn and Pereira "accept" their CableFAX Program Award]
[To see "The Daily Show" segment in which John Oliver visits "The Newsroom," click HERE]