Matt Blank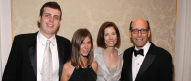 Title: Chairman/CEO, Showtime (pictured, right on far right)
Years in Cable: 35
Education: BA, U of PA; MBA, Baruch
Best Advice in 7 Words or Less: Dress for every game
David Nevins

Title: President, Entertainment, Showtime (pictured below)
Years in Cable: 1.5
Education: BA, Amherst
Best Advice in 7 Words or Less: Make yourself useful.
Why Them? Showtime's star continues to rise under the leadership of industry vet Blank and new energy source Nevins. In the past year alone the network grew by 2 million-plus subscribers, pushing past 20 million. In the year and a half since Nevins put on his cable hat, he's launched four successful series, including "The Big C" and "Shameless." The first series he gave the thumbs-up, "Homeland," debuted in October to critical acclaim, and dark comedy "House of Lies" is set to premiere in January. Blank's genius, meanwhile, remains his leadership, willingness to take risks and intuition for great, edgy TV. In development are "Under the Dome," a drama series based on a Stephen King novel and produced by Steven Spielberg, and "Masters of Sex," which chronicles the unusual relationship between human sexuality gurus Masters and Johnson.
A Laughing Matter: Showtime will pick up Steve Carell and David Steinberg's docu/interview series "Laughing Stock," which features host Steinberg interviewing top comedians of several generations.
Year Ahead: 2012 is the year of TV Everywhere and Showtime will be touting its Showtime Anytime product big-time with affiliates.
Matt Blank
The biggest innovation in cable over the last year has been: AuthenticationMy favorite restaurant: John's Pizza
My favorite "going out" town: New York
My favorite coffee order at Starbucks: Decaf cappuccino
Bands I would actually go see live: Bruce Springsteen, Rolling Stones, The Foo Fighters
My favorite iPad app: Google Earth
When I look at my cable set-top box, I can't help but think that: I wish we didn't need boxes.
If I could only have authenticated online access to 5 cable networks (not affiliated with my company), they would be: ESPN, CNN, CNBC, Fox Business Network, AMC
David Nevins
The one burning question I have for Siri on my iPhone 4S: How do I get to…
My favorite meal that I can also prepare myself: Big bowl of popcorn
The one topping that should never be put on a hot dog: Mayonnaise
Favorite "going out" town: Los Angeles
Favorite sports team: Washington Redskins
Favorite vacation spot: Big Sur
My favorite iPad app: Flight Control & The New Yorker
How many companies have you worked for since graduating from college? Five