0.8 MM Connector Included In New VNA System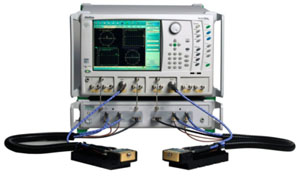 Anritsu Company says it will show off "the world's only broadband Vector Network Analyzer (VNA) system that can conduct single sweeps from 70 kHz to 140 GHz" at the International Microwave Symposium (IMS) next week in Montreal.
The demonstration will showcase Anritsu's latest technology, including a new 0.8 mm connector as well as the stability and RF performance of the VectorStar and mm-wave modules. During the demo, the VNA system will sweep from 70 kHz to 140 GHz; the system will conduct a single sweep across multiple coax and waveguide bands, "eliminating the need to use separate systems and associated data concatenation errors," the company says.
"Device engineers need broad frequency coverage to accurately characterize devices. To address this need, a connector that can perform above 110 GHz is required," says Bob Buxton, marketing manager/General Purpose Test, Microwave Measurements Division. "In order to support a VNA with performance to 140 GHz, we needed to develop and support a new 0.8 mm connector."