Partner with Cablefax at SCTE Cable-Tec Expo
Sept. 22-25 | Denver, Colorado
SCTE Cable-Tec Expo 2014 – the biggest cable telecommunications engineering show of the year – is the perfect opportunity to reach the lucrative tech vendor market.  Cablefax is a proud media partner to SCTE, and we are committed to making a splash with this market.  We invite your to join us!
To create a 'footprint' at this show in front of thousands of executive and mid-level decision makers and key influencers from the industry's top operating companies, Cablefax has a host of events and publications that are sure to reach the attendees and exhibitors that you need to target.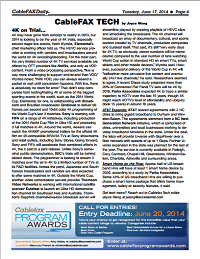 Cablefax Daily:
Special distribution before and at Cable-Tec Expo, including print distribution in pub bins and room drops, and electronic distribution to SCTE membership.  A variety of advertising options and packages are available.
Sponsored Video Opportunities:
Be the first in line to provide product, service and educational videos with your name all over them, AND uploaded and posted in our electronic publications and on the Tech section of our website.  Viewed by thousands of people each week, this is a sure way to get your message out to prospective buyers.
Content Marketing Opportunities:
This encompasses all marketing formats that involve the creation and sharing of content in order to attract, acquire and engage clearly defined and understood current and potential consumer bases with the objective of driving profitable customer action.  In a nutshell: YOUR CONTENT IS PUT IN FRONT OF OUR AUDIENCE! View an example.
About Cablefax:
Cablefax is the most trusted brand in the industry, offering a wide range of resources for cable executives, from publications to award programs to networking events to conferences.  Cablefax Daily is read by 100% of the top 20 Multichannel Video Program Distributors and our renewal rate is over 90%, proving Cablefax Daily readers are a loyal and engaged audience.  Our subscriber base includes the C-Suite Executives, Presidents, Senior VPs, VPs, and General Managers of Top Distributors.
Advertising Contact:
Olivia Murray at omurray@accessintel.com or 301-354-2010.