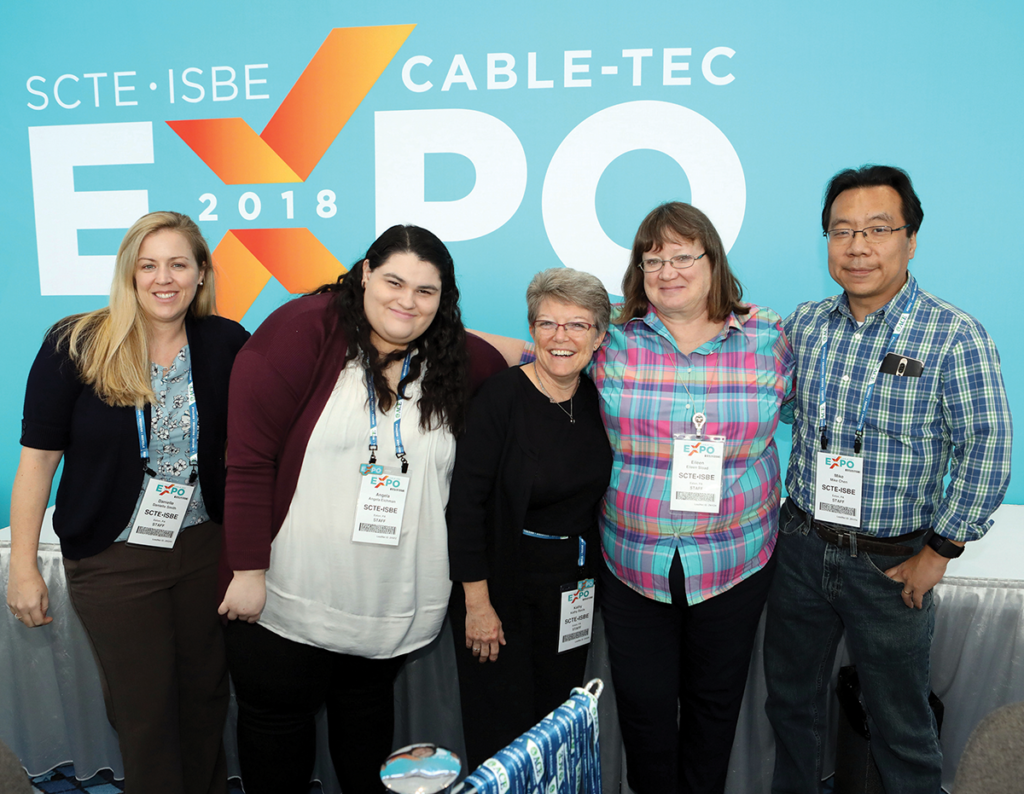 Got a question about a new software package? Trouble with your computer? Or just in need of a pick-me-up during a tough day? At SCTE•ISBE, accounts receivable manager Kathy Davis is your woman.
"Kathy Davis' impact is felt far beyond ledgers, receivables and payables. Kathy is the go-to source for help whenever someone is struggling with an issue—often professional, but occasionally personal," says Davis' manager SueAnn Cox, SCTE•ISBE director of accounting. "She makes herself available to anyone that needs assistance and if she does not have the answer, she finds one. She does this with an excellent attitude, thus demonstrating how to assist others in the organization."
For Davis, who joined the organization in 2013 in an accounts payable role, a seemingly bottomless capacity to support her co-workers is just part of her DNA. "I'm willing to try anything pretty much. I've always been curious about things, about taking things apart and seeing how they work. It's a natural curiosity that crosses various areas," she says.
"I think back to the mentors that have been in my life, people I've looked up to, that I want to emulate. They are gregarious, they are outgoing, and again they are willing to try. And they're willing to bring you along on the way, and help you to be able to do it as well, leave that fear behind and be willing to try. What's the worst thing that can happen?"
Among the key mentors along Davis' journey are her stepmother, whom she says demonstrated honesty and a straightforward approach to a blended family. She also cites her high school physical education teacher, who instilled confidence during a challenging personal time—and who landed the plum role of maid of honor at Davis' wedding. Both instilled an ethos Davis brings daily to the halls of SCTE•ISBE.
"I think the important part of a mentor is giving someone confidence to be able to try," Davis says. "If you fail, you fail. But I think sometimes we learn more when we fail then when everything goes smoothly."
A master at keeping all the plates spinning, Davis prior to SCTE•ISBE worked at a small elementary school in a nearby Pennsylvania town, where her job swelled from IT services to also include training teachers and teaching students in grades K-5 computer literacy. What ended up as a nearly 24/7 schedule helped shape her work ethic—"You have to be flexible every day, you never know what's going to be coming your way and you have be ready to go"—but also started to take a toll.
It was at that time Davis' sister, who worked in accounting at SCTE•ISBE, was planning a move out of state, and suggested her sibling for the role. Davis interviewed with operations chief Cathy Oakes, who passed away in late 2013, and finance exec Cathy Karch, who retired last summer. "I said, 'I have an accounting degree, but I've done a number of different things. You find the fit for me in your organization and I promise you will always get my best every day,' " she says.
The rest, as they say, is history. "Kathy has been instrumental in sharing with other SCTE employees all of her knowledge she has gleaned about how SCTE•ISBE works and our systems. She trained her replacement in AP when Kathy moved onto to her current AR role and continues to work with the replacement on issues that arise relating to AP and other accounting issues," Cox says. "She is currently managing our accountant assistant, and she is always ready to jump in when customer care needs a hand or has questions about individual member records."
And there's one more thing Cox notes: Davis' uncanny ability to know when someone needs assistance, even before they approach her.
"My husband and I joke about that; we call it the Spidey senses," Davis says. "I don't know what it is—either there is static in the air or something that seems not right with the universe—but I can just see when someone is struggling with something. I don't know how or why that happens, but I appreciate that it does."
– Cathy Applefeld Olson