Sign up for The Skinny from CableFAX - Free Weekly Eletter
Awards --
Call for Entries & Events:

CableFAX Most Powerful Women & Most Influential Minorities in Cable
Deadline: May 17
Free to Nominate

CableFAX Program Awards
Call for Entries: June 21
Enter today!

CableFAXIES & Sales Executive of the Year Awards Breakfast
June 24
Register today!

Complete List of Events

Webinars:

Vine, Viggle, GetGlue:
Leveraging the Newest Social Media Apps to Drive Engagement and Brand Awareness
On-Demand

Capitalizing on Cloud Management and Navigation

Video On Demand Next Practices: Capitalizing on the Latest Innovations
On Demand

Killer Cable Apps: Using Online Games and Apps to Drive Consumer Engagement
On Demand


---
---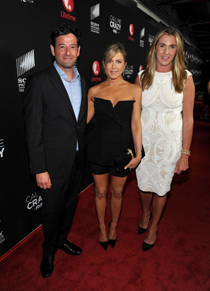 CALL ME CRAZY. On April 16, 2013, Lifetime and Sony Pictures Television held a premiere event for the Lifetime Original Movie "CALL Me Crazy: A Five Film" at the Pacific Design Center in Los Angeles. L to R: Rob Sharenow, evp, Programming, Lifetime Networks; Jennifer Aniston, Executive Producer of "Call Me Crazy"; and Nancy Dubuc, pres, Entertainment and Media, A+E Nets. Debuts April 20, 8pm. Photo by John Shearer/Invision for Lifetime/AP Images.





July 17, 2012

To Market, To Market 07/17/12

Mogreet, a provider of mobile multimedia messaging for the delivery of video to mobile phones, unveiled the AdStitch mobile advertising service that streamlines the process of combining ads with MMS video messages to generate advertising revenue from opt–in MMS messaging campaigns. Users can upload a brief video ad within Mogreet's Campaign Manager and can use AdStitch to "stitch" the ad to a video being sent to their subscribers. The clip automatically is transcoded and delivered to a targeted mobile subscriber list via Mogreet's MMS platform. Cox Media Group's Oakland, Calif., TV station KTVU is a beta tester…U.S. Cellular notes that 43 percent of individuals it polled are in the "seven year itch" phase with their wireless providers, but respondents are hesitant to call it quits. To help subs make a clean break, the operator is offering as much as $300 to those who want to switch to U.S. Cellular through a $100 smartphone activation credit and as much as $200 when they trade in their used phones.