Sign up for The Skinny from CableFAX - Free Weekly Eletter
Awards --
Call for Entries & Events:

CableFAX Most Powerful Women & Most Influential Minorities in Cable
Deadline: May 17
Free to Nominate

CableFAX Program Awards
Call for Entries: June 21
Enter today!

CableFAXIES & Sales Executive of the Year Awards Breakfast
June 24
Register today!

Complete List of Events

Webinars:

Vine, Viggle, GetGlue:
Leveraging the Newest Social Media Apps to Drive Engagement and Brand Awareness
On-Demand

Capitalizing on Cloud Management and Navigation

Video On Demand Next Practices: Capitalizing on the Latest Innovations
On Demand

Killer Cable Apps: Using Online Games and Apps to Drive Consumer Engagement
On Demand


---
---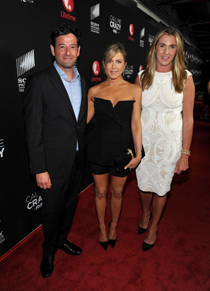 CALL ME CRAZY. On April 16, 2013, Lifetime and Sony Pictures Television held a premiere event for the Lifetime Original Movie "CALL Me Crazy: A Five Film" at the Pacific Design Center in Los Angeles. L to R: Rob Sharenow, evp, Programming, Lifetime Networks; Jennifer Aniston, Executive Producer of "Call Me Crazy"; and Nancy Dubuc, pres, Entertainment and Media, A+E Nets. Debuts April 20, 8pm. Photo by John Shearer/Invision for Lifetime/AP Images.





June 29, 2012

People Watch 06/29/12

Now that Google's purchase of Motorola Mobility has concluded, Moto president Dan Moloney and CTO Geoff Roman are resigning, replaced by former Charter Communications executives Marwan Fawaz and Matt Bell…Well, we know the mystery competitor that hired former T-Mobile USA CEO Philipp Humm: Vodafone. Humm is the new CEO of the carrier's Northern & Central Europe Region, with a start date of Oct. 1…Barbara Goodstein is the new CMO at Vonage, responsible for the strategic direction and implementation of the company's sales and marketing initiatives. She will serve on the company's Senior Leadership Team and will report to CEO Marc Lefar.