Just Announced: CableFAX Expands Tech Coverage in Multiplatform Initiative

Sign up for The Skinny from CableFAX - Free Weekly Eletter
Awards --
Call for Entries & Events:

CableFAX Leadership Roundtable
June 10

CableFAX Tech Breakfast
June 12

CableFAX Program Awards
Call for Entries: June 21
Enter today!

CableFAXIES & Sales Executive of the Year Awards Breakfast
June 24
Register today!

Complete List of Events
Webinars:

Vine, Viggle, GetGlue:
Leveraging the Newest Social Media Apps to Drive Engagement and Brand Awareness
On-Demand

Capitalizing on Cloud Management and Navigation
Video On Demand Next Practices: Capitalizing on the Latest Innovations
On Demand
Killer Cable Apps: Using Online Games and Apps to Drive Consumer Engagement
On Demand
---
---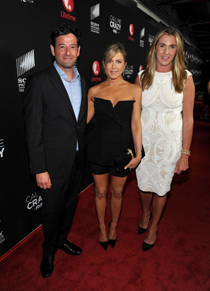 CALL ME CRAZY. On April 16, 2013, Lifetime and Sony Pictures Television held a premiere event for the Lifetime Original Movie "CALL Me Crazy: A Five Film" at the Pacific Design Center in Los Angeles. L to R: Rob Sharenow, evp, Programming, Lifetime Networks; Jennifer Aniston, Executive Producer of "Call Me Crazy"; and Nancy Dubuc, pres, Entertainment and Media, A+E Nets. Debuts April 20, 8pm. Photo by John Shearer/Invision for Lifetime/AP Images.





August 3, 2012

Deals Of The Day 08/03/12

More on the AT&T/NextWave Wireless purchase: Even with the former Ma Bell's proposed purchase of NextWave's unused, auction-bought spectrum (click here for more information), the nation's wireless congestion still won't be solved any time soon. "AT&T believes that even under a best-case scenario 2.3 GHz WCS spectrum would not be available for deployment for four to five years, owing to 3GPP 2.3 GHz LTE standardization (12 months); equipment design (six months); equipment testing (nine months); cell-site design (three months); and cell-site construction (24 months), " notes Jeffrey S. Silva, senior policy director/Telecommunications, Media and Technology at Wash.-D.C.-based Medley Global Advisors LLC. "AT&T/NextWave could put some downward pressure on wireless assets held by Clearwire and Dish Network relative to the 4G wireless wholesale market, though we continue to regard both companies' holdings as valuable in view of spectrum scarcity amid strong consumer/enterprise wireless data demand. LightSquared's unresolved regulatory troubles and challenges associated with broadcast spectrum repurposing and government spectrum sharing contribute to our outlook that the nation's spectrum crunch will not be significantly alleviated in the near future"… Agilent Technologies Inc. now owns AT4 wireless' Test Systems business assets, and the products now are available directly from Agilent and its channel partners. The portfolio includes solutions for conformance and R&D customers working on LTE, Bluetooth and NFC/RFID technologies.