Sign up for The Skinny from CableFAX - Free Weekly Eletter
Awards --
Call for Entries & Events:

CableFAX Most Powerful Women & Most Influential Minorities in Cable
Deadline: May 17
Free to Nominate

CableFAX Program Awards
Call for Entries: June 21
Enter today!

CableFAXIES & Sales Executive of the Year Awards Breakfast
June 24
Register today!

Complete List of Events

Webinars:

Vine, Viggle, GetGlue:
Leveraging the Newest Social Media Apps to Drive Engagement and Brand Awareness
On-Demand

Capitalizing on Cloud Management and Navigation

Video On Demand Next Practices: Capitalizing on the Latest Innovations
On Demand

Killer Cable Apps: Using Online Games and Apps to Drive Consumer Engagement
On Demand


---
---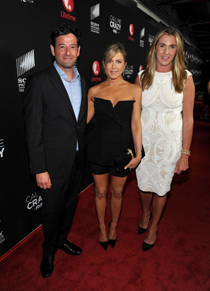 CALL ME CRAZY. On April 16, 2013, Lifetime and Sony Pictures Television held a premiere event for the Lifetime Original Movie "CALL Me Crazy: A Five Film" at the Pacific Design Center in Los Angeles. L to R: Rob Sharenow, evp, Programming, Lifetime Networks; Jennifer Aniston, Executive Producer of "Call Me Crazy"; and Nancy Dubuc, pres, Entertainment and Media, A+E Nets. Debuts April 20, 8pm. Photo by John Shearer/Invision for Lifetime/AP Images.





July 2, 2012

Deals Of The Day 07/02/12

Murata Electronics North America Inc. and its parent company Murata Manufacturing Co. Ltd., closed the deal to acquire RF Monolithics Inc. in a purchase that translates to $1.78 per share (click here for more information). The Dallas-based RFM will continue to market its wireless-connectivity products under the RFM brand as a wholly owned subsidiary. Murata plans to use its new purchase to attack the healthcare, energy, industrial and M2M arenas…Zayo Group LLC wrapped its purchase of fiber-based infrastructure provider AboveNet Inc. The combined company will operate in 45 U.S. states, and in seven countries in North America and Europe. Its network spans more than 61,000 route miles with 4.6 million miles of fiber, serving some 9,000 buildings, including major datacenters, telecom hubs, enterprise buildings and wireless towers. Services include dark fiber, wavelengths, SONET, Ethernet and colocation…Ixia and BreakingPoint Systems Inc. are about to merge in a deal worth $160 million in cash. This purchase reportedly will allow Ixia to provide an end-to-end solution that monitors, tests, and optimizes converged networks for ongoing cyber-security and performance testing…Ingram Micro is poised to acquire all of the outstanding shares of BrightPoint Inc.'s common stock for $9 per share in cash, a 66-percent premium to BrightPoint's closing stock price on June 29, and a 35-percent premium to the 90-day average trading price. The transaction is worth approximately $840 million, including debt. The combo company will create a global provider of device-lifecycle services and solutions for the mobility industry.