CableFAX Contest - Describe the cable industry in 5 words for a chance to win a $50 Amazon gift card!
Sign up for The Skinny from CableFAX - Free Weekly Eletter
Awards --
Call for Entries & Events:

CableFAX's Most Powerful Women in Cable Breakfast
November 21 - NYC
Photos from the Event

CableFAX's Best of the Web & Digital Marketing Awards
Deadline: December 6
Enter Today!

Webinars:

Establish Cable PR and Brand Leadership with Content Marketing
December 17
Register Now!

Selling TV Everywhere: Marketing and PR Strategies to Drive TVE Awareness
On-Demand

---
---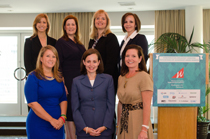 A TOUCH OF LEADERSHIP: At the PowerBrokers Breakfast of the WICT Washington, DC/Baltimore Chapter in Washington, DC on October 29, Touchstones of Leadership Award Honorees, were (top row, L-R) Discovery Comm's Catherine Frymark, Scripps Nets' Suzanne Underwald, Comcast's Samantha Callahan, TWC's Becky Bobzien-Simms, (bottom row, L-R) Travel Channel's Meghan Rodgers, the FCC's Michelle Carey & NBCU's Meredith Attwell Baker.






December 12, 2011

Motorola Mobility, VTech Expand Relationship

Motorola Mobility, VTech Communications and VTech Telecommunications have expanded their business relationship, which includes patent licensing, trademark licensing and technology licensing. Motorola Mobility and VTech have updated the companies' existing intellectual property licensing arrangement covering Motorola Mobility's Wi-Fi, video and cordless phone patent portfolios. The terms of the agreement are confidential.

"We are pleased to collaborate with VTech in providing Motorola Mobility's industry-leading technology, and are confident this agreement will help foster continued innovation and technological advancement for the cordless phone industry," said Kirk Dailey, corporate vice president/Intellectual Property, Motorola Mobility, in a statement. "Motorola's intellectual property portfolio covers many diverse technologies within the consumer electronics industry and we are committed to licensing our technology for the benefit of our licensees, customers, partners and shareholders."