Sign up for The Skinny from CableFAX - Free Weekly Eletter
Awards --
Call for Entries & Events:

CableMania with Cablefax & AXS TV - April 30
RSVP Today!

Call for Nominations - Top Operators
Nomination Deadline: May 2
Enter Now!

CableFAX's Digital & Tech Summit: May 21
Yale Club | NYC
Register Now!

Call for Entries - Program Awards
Entry Deadline: June 20
Enter Today!

Complete List of Events
Webinars:

Participation TV 2.0: Turning Audience Involvement Into Profit
May 7
Register Now!

Monetizing Social TV: New Tools and Tactics for Success
March 25
On-Demand

---
---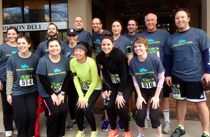 CABLE SHAPES UP! Members of CableFit #teamplatform at NCTA get ready to run a St. Patrick's Day 8K road race, spanning the U.S. Capitol grounds and National Mall on March 9, (back row, l. to r.): Julie Hance, Ethan Buch, Frank Gallagher, Kristin Buch, Steven Morris, Lisa Hamilton, Scot Donaldson, Rob Stoddard, Rick Stoddard; (front row, l. to r.): Kelly Allers, Kat Stewart, Esther Song, Carleigh Blewett, Lisa Otto. NCTA's team finished 11th in a field of 54.







December 12, 2011

Motorola Mobility, VTech Expand Relationship

Motorola Mobility, VTech Communications and VTech Telecommunications have expanded their business relationship, which includes patent licensing, trademark licensing and technology licensing. Motorola Mobility and VTech have updated the companies' existing intellectual property licensing arrangement covering Motorola Mobility's Wi-Fi, video and cordless phone patent portfolios. The terms of the agreement are confidential.

"We are pleased to collaborate with VTech in providing Motorola Mobility's industry-leading technology, and are confident this agreement will help foster continued innovation and technological advancement for the cordless phone industry," said Kirk Dailey, corporate vice president/Intellectual Property, Motorola Mobility, in a statement. "Motorola's intellectual property portfolio covers many diverse technologies within the consumer electronics industry and we are committed to licensing our technology for the benefit of our licensees, customers, partners and shareholders."