Sign up for The Skinny from CableFAX - Free Weekly Eletter
Awards --
Call for Entries & Events:

CableMania with Cablefax & AXS TV - April 30
RSVP Today!

Call for Nominations - Top Operators
Nomination Deadline: May 2
Enter Now!

CableFAX's Digital & Tech Summit: May 21
Yale Club | NYC
Register Now!

Call for Entries - Program Awards
Entry Deadline: June 20
Enter Today!

Complete List of Events
Webinars:

Participation TV 2.0: Turning Audience Involvement Into Profit
May 7
Register Now!

Monetizing Social TV: New Tools and Tactics for Success
March 25
On-Demand

---
---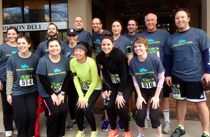 CABLE SHAPES UP! Members of CableFit #teamplatform at NCTA get ready to run a St. Patrick's Day 8K road race, spanning the U.S. Capitol grounds and National Mall on March 9, (back row, l. to r.): Julie Hance, Ethan Buch, Frank Gallagher, Kristin Buch, Steven Morris, Lisa Hamilton, Scot Donaldson, Rob Stoddard, Rick Stoddard; (front row, l. to r.): Kelly Allers, Kat Stewart, Esther Song, Carleigh Blewett, Lisa Otto. NCTA's team finished 11th in a field of 54.







October 11, 2011

Wowza Enhances Its Multi-Screen Software

Wowza Media Systems Server 3 software platform provides a single extensible foundation for multi-screen media delivery, offering any-screen coverage for Adobe Flash, Microsoft Silverlight, iPhone, iPad, Android, other smartphones and tablets, smart TVs, and IPTV/OTT set-top boxes.

New capabilities of the Wowza Media Server 3 platform include:

Integrated live adaptive bitrate (ABR) transcoding enabled by Wowza Transcoder AddOn eliminates the provisioning complexity typical of adaptive bitrate streaming, reduces needed access bandwidth by up to 80 percent, and enables better utilization of network resources such as routers and switches.
Wowza Transcoder takes advantage of standard hardware to transform incoming live streams from encoders, IP cameras, IPTV headends, and other live sources into multiple stream sets for Flash RTMP and HTTP Dynamic Streaming (HDS), HLS, smooth streaming, and non-adaptive delivery for RTSP/RTP and MPEG-TS.
Any-screen time-shifted delivery of live streams with Wowza nDVR AddOn enables Wowza licensees to increase revenues and viewer engagement by delivering premium catch-up TV services. Wowza nDVR minimizes network storage requirements and simplifies the delivery workflow for all screens.
Support for multiple studio-approved DRM platforms provides secure streaming with on-the-fly encryption for both live and on-demand content to any screen with a choice of digital rights management platforms, including Verimatrix VCAS and Microsoft PlayReady.
Unconstrained per-server capacity with no CPU core limitations means media publishers can take full advantage of the highly-threaded multicore hardware for even higher streaming efficiency.