Sign up for The Skinny from CableFAX - Free Weekly Eletter
Awards --
Call for Entries & Events:

CableMania with Cablefax & AXS TV - April 30
RSVP Today!

Call for Nominations - Top Operators
Nomination Deadline: May 2
Enter Now!

CableFAX's Digital & Tech Summit: May 21
Yale Club | NYC
Register Now!

Call for Entries - Program Awards
Entry Deadline: June 20
Enter Today!

Complete List of Events
Webinars:

Participation TV 2.0: Turning Audience Involvement Into Profit
May 7
Register Now!

Monetizing Social TV: New Tools and Tactics for Success
March 25
On-Demand

---
---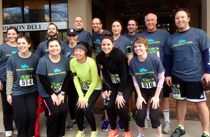 CABLE SHAPES UP! Members of CableFit #teamplatform at NCTA get ready to run a St. Patrick's Day 8K road race, spanning the U.S. Capitol grounds and National Mall on March 9, (back row, l. to r.): Julie Hance, Ethan Buch, Frank Gallagher, Kristin Buch, Steven Morris, Lisa Hamilton, Scot Donaldson, Rob Stoddard, Rick Stoddard; (front row, l. to r.): Kelly Allers, Kat Stewart, Esther Song, Carleigh Blewett, Lisa Otto. NCTA's team finished 11th in a field of 54.







December 10, 2012

To Market, To Market 12/10/12

Interactive TV supplier Ensequence has teamed with Audible Magic, a provider of automated content recognition (ACR) solutions, to develop an integrated platform they say will create new opportunities for brands to engage and win loyalty among TV viewers. Combining Audible Magic's SmartID and Ensequence's iTV Manager solutions, the platform lets operators "monitor hundreds of broadcast streams that then trigger events across set-top boxes," the two say. "This, in turn, activates programming and TV commercial enhancements that further engage viewers"…Canada's Avvasi Inc., which bills itself as the world's only vendor of QoE driven video management and monetization solutions, today launched the Avvasi Q-SRV Video Service Gateway that allows mobile network operators to "put their subscribers' video Quality of Experience at the heart of the traffic management process" by allowing them to actively manage and improve subscriber video experience. Q-SRV has been designed for LTE and broadband networks; it reportedly enables operators to detect poor video experience in their network, per subscriber, device, location, and service; and to improve the user experience in real time while simultaneously increasing virtual network capacity. Additionally, Q-SRV helps rationalize and create SLAs for video quality, the partners say.