CableFAX Contest - Describe the cable industry in 5 words for a chance to win a $50 Amazon gift card!
Sign up for The Skinny from CableFAX - Free Weekly Eletter
Awards --
Call for Entries & Events:

CableFAX's Most Powerful Women in Cable Breakfast
November 21 - NYC
Photos from the Event

CableFAX's Best of the Web & Digital Marketing Awards
Deadline: December 6
Enter Today!

Webinars:

Establish Cable PR and Brand Leadership with Content Marketing
December 17
Register Now!

Selling TV Everywhere: Marketing and PR Strategies to Drive TVE Awareness
On-Demand

---
---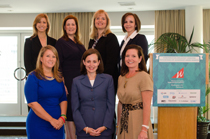 A TOUCH OF LEADERSHIP: At the PowerBrokers Breakfast of the WICT Washington, DC/Baltimore Chapter in Washington, DC on October 29, Touchstones of Leadership Award Honorees, were (top row, L-R) Discovery Comm's Catherine Frymark, Scripps Nets' Suzanne Underwald, Comcast's Samantha Callahan, TWC's Becky Bobzien-Simms, (bottom row, L-R) Travel Channel's Meghan Rodgers, the FCC's Michelle Carey & NBCU's Meredith Attwell Baker.






November 21, 2012

To Market, To Market 11/21/12

American Express is working with BrightLine to roll out what they say is the largest interactive-TV campaign ever executed, including an "always-on" unified destination point that can be accessed by multiple cable and satellite providers. The AMEX Channel reportedly will enable American Express cardmembers and prospects to have an interactive on-demand viewing experience. The nationwide interactive-TV channel will reach more than 50 million households in the United States, and viewers can access it through various gateways including clickable overlays that will air alongside some American Express commercials, dedicated channel positions, channel guide listings, interactive banners and more. "The interactive-TV experience will allow viewers to explore the benefits of membership, discover what cards are right for them, play games, find out what is new from American Express and watch original content. The experience is designed to connect with viewers in all the ways we know they now use their remote control, and it represents a leap forward in TV advertising," comments Jacqueline Corbelli, founder/ chairman/CEO at BrightLine.