Just Announced: CableFAX Expands Tech Coverage in Multiplatform Initiative

Sign up for The Skinny from CableFAX - Free Weekly Eletter
Awards --
Call for Entries & Events:

CableFAX Leadership Roundtable
June 10

CableFAX Tech Breakfast
June 12

CableFAX Program Awards
Call for Entries: June 21
Enter today!

CableFAXIES & Sales Executive of the Year Awards Breakfast
June 24
Register today!

Complete List of Events
Webinars:

Vine, Viggle, GetGlue:
Leveraging the Newest Social Media Apps to Drive Engagement and Brand Awareness
On-Demand

Capitalizing on Cloud Management and Navigation
Video On Demand Next Practices: Capitalizing on the Latest Innovations
On Demand
Killer Cable Apps: Using Online Games and Apps to Drive Consumer Engagement
On Demand
---
---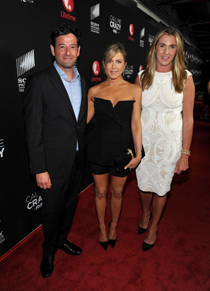 CALL ME CRAZY. On April 16, 2013, Lifetime and Sony Pictures Television held a premiere event for the Lifetime Original Movie "CALL Me Crazy: A Five Film" at the Pacific Design Center in Los Angeles. L to R: Rob Sharenow, evp, Programming, Lifetime Networks; Jennifer Aniston, Executive Producer of "Call Me Crazy"; and Nancy Dubuc, pres, Entertainment and Media, A+E Nets. Debuts April 20, 8pm. Photo by John Shearer/Invision for Lifetime/AP Images.





July 19, 2012

To Market, To Market 07/19/12

Starting today, Verizon Wireless cuts over 4G Long Term Evolution (LTE) service in 33 new U.S. markets and it plans to cover more than 400 by year's end…Chicago-based Clearstream has a new platform it says provides "more efficiently priced" access to "millions" of video streams direct from publishers, major ad exchanges, video ad exchanges, YouTube, social media and private relationships. Clearstream's Clearview technology ingests and scans video streams using object and acoustic recognition, helping to ensure brand safety and transparency for both advertisers and buyers.