Sign up for The Skinny from CableFAX - Free Weekly Eletter
Awards --
Call for Entries & Events:

CableMania with Cablefax & AXS TV - April 30
RSVP Today!

Call for Nominations - Top Operators
Nomination Deadline: May 2
Enter Now!

CableFAX's Digital & Tech Summit: May 21
Yale Club | NYC
Register Now!

Call for Entries - Program Awards
Entry Deadline: June 20
Enter Today!

Complete List of Events
Webinars:

Participation TV 2.0: Turning Audience Involvement Into Profit
May 7
Register Now!

Monetizing Social TV: New Tools and Tactics for Success
March 25
On-Demand

---
---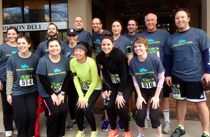 CABLE SHAPES UP! Members of CableFit #teamplatform at NCTA get ready to run a St. Patrick's Day 8K road race, spanning the U.S. Capitol grounds and National Mall on March 9, (back row, l. to r.): Julie Hance, Ethan Buch, Frank Gallagher, Kristin Buch, Steven Morris, Lisa Hamilton, Scot Donaldson, Rob Stoddard, Rick Stoddard; (front row, l. to r.): Kelly Allers, Kat Stewart, Esther Song, Carleigh Blewett, Lisa Otto. NCTA's team finished 11th in a field of 54.







November 20, 2012

The Need For Speed 11/20/12

Bristol Tennessee Essential Services (BTES) has partnered with Alcatel-Lucent to offer 1-gigabit broadband service to all of its 33,000 residential and business electric customers. "Bristol now has one of the fastest, totally built out networks in the United States. To give an example of how fast, you can download about two hours of video or upwards of 200 songs in just six seconds," comments Dr. Michael Browder, BTES CEO. "For our residential customers, that means one person in the household can download a movie, while another is playing an online game, while another is watching an HDTV program – all without slowing down any of the activities. For our business customers, it opens the way for transporting and accessing 'big data', which is critical for economic development of the area"…Cable & Wireless Communications' (CWC) Guernsey (U.K.) business claims to have more than doubled the island's top download speed for fixed broadband. CWC owns the only broadband network on Guernsey and provides Internet on a wholesale basis to several ISPs along with providing its own "Sure" brand. The new service provides homes and businesses with download speeds as fast as 40 Mbps, with an upload speed as fast as 2 Mbps…Gigaclear, a provider of ultrafast fiber-optic broadband to rural U.K. communities, just wrapped the three-month construction of an all-fiber broadband network in Appleton and Eaton – placing the Oxfordshire villages among the best-connected communities in the world, it says. More than 400 properties have a connection to the network and all new customers now are connected. Ultrafast "fiber to the premises" broadband features upload and download speeds as fast as 1 Gbps). Notes CEO Matthew Hare, "We have five more communities scheduled for construction over the next few months, of which four are also in Oxfordshire and the fifth in Rutland. With over 150 more communities in discussion with us already, this is a very exciting time for world-class rural broadband in the U.K"…Dakota Carrier Network (DCN) LLC, a N.D.-based communications provider, is using Ciena Corporation's coherent optical technology to deliver 40G and 100G wavelength services across its statewide optical backbone. The operator recently received approximately $10.8 million from the National Telecommunications and Information Administration's (NTIA) Broadband Technology Opportunities Program. The upgraded network leverages Ciena's OPn framework principles, allowing DCN to deliver scalable, high-speed, low-latency voice, video and data services to its commercial, education and government customers at speeds to 100G. DCN recently deployed Ciena's 6500 Packet-Optical Platform equipped with WaveLogic coherent optical processors in a 88-channel DWDM ring. In addition, DCN's previously installed Ciena 10G equipment was upgraded through the 6500 platform, allowing DCN to offer new wavelength services using existing infrastructure.