CableFAX Contest - Describe the cable industry in 5 words for a chance to win a $50 Amazon gift card!
Sign up for The Skinny from CableFAX - Free Weekly Eletter
Awards --
Call for Entries & Events:

CableFAX's Most Powerful Women in Cable Breakfast
November 21 - NYC
Photos from the Event

CableFAX's Best of the Web & Digital Marketing Awards
Deadline: December 6
Enter Today!

Webinars:

Establish Cable PR and Brand Leadership with Content Marketing
December 17
Register Now!

Selling TV Everywhere: Marketing and PR Strategies to Drive TVE Awareness
On-Demand

---
---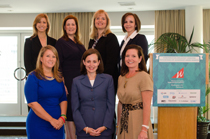 A TOUCH OF LEADERSHIP: At the PowerBrokers Breakfast of the WICT Washington, DC/Baltimore Chapter in Washington, DC on October 29, Touchstones of Leadership Award Honorees, were (top row, L-R) Discovery Comm's Catherine Frymark, Scripps Nets' Suzanne Underwald, Comcast's Samantha Callahan, TWC's Becky Bobzien-Simms, (bottom row, L-R) Travel Channel's Meghan Rodgers, the FCC's Michelle Carey & NBCU's Meredith Attwell Baker.






November 21, 2012

Survey Sez 11/21/12

"Ongoing challenging economic conditions in the key revenue-generating markets of North America and Western Europe have resulted in slowing subscriber and revenue growth in the cable-TV market," notes Jeff Heynen, directing analyst/Broadband Access and Pay TV at Infonetics Research. "Subscribers are far less loyal than they used to be." According to Infonetics, the cable-TV industry is characterized more by churn than cord-cutting as subscribers take advantage of introductory pricing on satellite and IPTV subscriptions that cost anywhere from 30-percent to 50-percent less than their current cable bills. "DirecTV, Verizon, AT&T and Virgin Media have all set their sights on existing cable subscribers, and they're seeing their subscriber bases increase as cable TV subscriptions shrink," he adds. Other data: The global pay-TV market (cable, satellite, and telco IPTV) totaled $137 billion in the first half of 2012, a 9.4-percent increase over the same time last year; by 2016, Infonetics expects satellite-TV revenue to overtake cable revenue for the first time; and while cable subs make up 60 percent of pay-TV subscribers, growth is strongest in the telco IPTV segment, up 19 percent in 1H12 compared with 2H11…After years of waiting, 60 GHz technology looks set to emerge from a niche technology to a mass-market solution. The main enabler has been the linking of the WiGig Alliance with the Wi-Fi Alliance and the forthcoming ratification of the 802.11ad standard which will encourage more Wi-Fi IC vendors to add 11ad to future tri-band solutions (i.e., 11n/11ac /11ad). The partnership between Wi-Gig vendor Wilocity and Wi-Fi vendor Qualcomm Atheros to produce tri-band solutions is starting to bear fruit as Dell were the first to announce an ultrabook product with WiGig/802.11ad. The smartphone will be the long-term driver of WiGig/11ad market growth, dwarfing all others from 2015 onwards. 802.11ad is widely seen as the next step for Wi-Fi, after 11ac.