CableFAX Contest - Describe the cable industry in 5 words for a chance to win a $50 Amazon gift card!
Sign up for The Skinny from CableFAX - Free Weekly Eletter
Awards --
Call for Entries & Events:

CableFAX's Most Powerful Women in Cable Breakfast
November 21 - NYC
Photos from the Event

CableFAX's Best of the Web & Digital Marketing Awards
Deadline: December 6
Enter Today!

Webinars:

Establish Cable PR and Brand Leadership with Content Marketing
December 17
Register Now!

Selling TV Everywhere: Marketing and PR Strategies to Drive TVE Awareness
On-Demand

---
---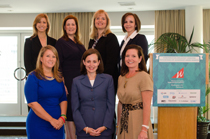 A TOUCH OF LEADERSHIP: At the PowerBrokers Breakfast of the WICT Washington, DC/Baltimore Chapter in Washington, DC on October 29, Touchstones of Leadership Award Honorees, were (top row, L-R) Discovery Comm's Catherine Frymark, Scripps Nets' Suzanne Underwald, Comcast's Samantha Callahan, TWC's Becky Bobzien-Simms, (bottom row, L-R) Travel Channel's Meghan Rodgers, the FCC's Michelle Carey & NBCU's Meredith Attwell Baker.






November 19, 2012

Survey Sez 11/19/12

According to the newest Infonetics Research report on service-provider outsourcing to vendors, outsourcing will continue "at an unabated pace, but revenue in the first half of 2012 is already 2-percent higher than expected, with all OEM vendors reporting healthy growth in outsourcing, professional and managed services," notes Stéphane Téral, principal analyst/Mobile Infrastructure and Carrier Economics. "This gives us pause to ask what would happen to some of these vendors if they didn't have a presence in services." Other stats: By 2016, carrier outsourcing is expected to be a $76 billion global market; opex reduction continues to be the chief driver for carriers outsourcing to vendors such network tasks as designing, building, maintaining and billing; and Alcatel-Lucent, Ericsson, Huawei and Nokia Siemens Networks manage about a third of the world's subscriber base, up 29 percent in just the last six months…The U.K. leads Europe in the adoption of both standalone over-the-top (OTT) services as well as operator-owned multiscreen (TV Everywhere) services, says ABI Research, and many U.K. consumers fit the multidevice profile, with more than 10 percent of the population already boasting an average of four connected devices. Today, more than 50 percent of broadband users are using pure OTT services (fueled in part by the BBC iPlayer), while pay-TV operator-owned multiscreen services capture only about 17.5 percent of pay-TV households, the group adds.