CableFAX Contest - Describe the cable industry in 5 words for a chance to win a $50 Amazon gift card!
Sign up for The Skinny from CableFAX - Free Weekly Eletter
Awards --
Call for Entries & Events:

CableFAX's Most Powerful Women in Cable Breakfast
November 21 - NYC
Photos from the Event

CableFAX's Best of the Web & Digital Marketing Awards
Deadline: December 6
Enter Today!

Webinars:

How to Profit from Content Marketing in Cable
December 17
Register Now!

Selling TV Everywhere: Marketing and PR Strategies to Drive TVE Awareness
On-Demand

---
---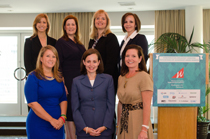 A TOUCH OF LEADERSHIP: At the PowerBrokers Breakfast of the WICT Washington, DC/Baltimore Chapter in Washington, DC on October 29, Touchstones of Leadership Award Honorees, were (top row, L-R) Discovery Comm's Catherine Frymark, Scripps Nets' Suzanne Underwald, Comcast's Samantha Callahan, TWC's Becky Bobzien-Simms, (bottom row, L-R) Travel Channel's Meghan Rodgers, the FCC's Michelle Carey & NBCU's Meredith Attwell Baker.






November 16, 2012

Survey Sez 11/16/12

Wireless power for mobile devices will constitute a market worth more than $5 billion annually by 2020, notes Pike Research, and the total market for wireless power technologies across all applications will surpass $15 billion by that time. "The barriers to adoption for wireless power are lifting, and it's clear that this is an environmentally friendly set of technologies that, before the end of the decade, could contribute to a significant reduction in carbon emissions and embedded energy used to produce, ship, and dispose of conventional charging equipment," comments Research Director Eric Woods. "Wireless power will become a ubiquitous form of charging in many applications." Leading the pack are Verizon Wireless and NTT DoCoMo, which have begun integrating wireless charging systems into their devices. Adds Pike, "The future of wireless power can be seen in efforts to move toward a smarter connected power infrastructure, including wireless charging hot zones similar to Wi-Fi hot spots"…"Investment in new WDM gear is growing, but it isn't growing fast enough to offset the accelerated declines in SONET/SDH," notes Andrew Schmitt, principal analyst/Optical at Infonetics Research. "SONET/SDH spending hit another all-time low in the third quarter as architectural shifts in wireless backhaul quicken its transition into obsolescence. Carriers aren't allocating scarce capital to out-of-date equipment." Schmitt offers a bright side, saying an investment cycle will begin next year regarding core networks and "supported by the massive ramp in 100G prototyping and trialing activities that are already underway worldwide." More Infonetics data: In 3Q12, the global optical network hardware market, including WDM and SONET/SDH, fell 2 percent sequentially (the third straight quarter of declines following five consecutive quarters of minor increases); NEC, Fujitsu and Infinera had a strong 3Q12, with revenue up by double digits thanks to robust ROADM equipment spending; and performance in North America and EMEA was relatively weak, although North America is expected to resume moderate growth in 4Q12 as AT&T and Verizon ramp spending.