CableFAX Contest - Describe the cable industry in 5 words for a chance to win a $50 Amazon gift card!
Sign up for The Skinny from CableFAX - Free Weekly Eletter
Awards --
Call for Entries & Events:

CableFAX's Most Powerful Women in Cable Breakfast
November 21 - NYC
Photos from the Event

CableFAX's Best of the Web & Digital Marketing Awards
Deadline: December 6
Enter Today!

Webinars:

Establish Cable PR and Brand Leadership with Content Marketing
December 17
Register Now!

Selling TV Everywhere: Marketing and PR Strategies to Drive TVE Awareness
On-Demand

---
---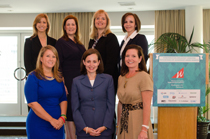 A TOUCH OF LEADERSHIP: At the PowerBrokers Breakfast of the WICT Washington, DC/Baltimore Chapter in Washington, DC on October 29, Touchstones of Leadership Award Honorees, were (top row, L-R) Discovery Comm's Catherine Frymark, Scripps Nets' Suzanne Underwald, Comcast's Samantha Callahan, TWC's Becky Bobzien-Simms, (bottom row, L-R) Travel Channel's Meghan Rodgers, the FCC's Michelle Carey & NBCU's Meredith Attwell Baker.






November 12, 2012

Survey Sez 11/12/12

ABI Research put Brightcove at the top of its Competitive Assessment heap when it comes to over-the-top (OTT) and multiscreen video distribution for premium video, followed by Ooyala and Akamai..."Sales of 3G and 4G self-organizing network (SON) software are on track to more than triple worldwide this year, thanks mainly to AT&T and KDDI carrying out large-scale SON deployments, while the much larger, older 2G/3G optimization segment continues to grow in the single-digits, driven by operators seeking to control opex," comments Stéphane Téral, principal analyst/Mobile Infrastructure and Carrier Economics at Infonetics. "The combination of the ongoing 2G-to-3G subscriber migration and the preparation of 3G-to-4G subscriber migration — specifically LTE rollouts driving SON tools — will fuel growth in the mobile network optimization market going forward. " Combined, 3G/4G SON software and 2G/3G optimization software sales grew 11 percent last year, the group found, and they are on track to grow 16 percent this year. Infonetics expects the SON and optimization software market to grow to $4.5 billion by 2016.