Sign up for The Skinny from CableFAX - Free Weekly Eletter
Awards --
Call for Entries & Events:

CableMania with Cablefax & AXS TV - April 30
RSVP Today!

Call for Nominations - Top Operators
Nomination Deadline: May 2
Enter Now!

CableFAX's Digital & Tech Summit: May 21
Yale Club | NYC
Register Now!

Call for Entries - Program Awards
Entry Deadline: June 20
Enter Today!

Complete List of Events
Webinars:

Participation TV 2.0: Turning Audience Involvement Into Profit
May 7
Register Now!

Monetizing Social TV: New Tools and Tactics for Success
March 25
On-Demand

---
---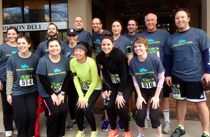 CABLE SHAPES UP! Members of CableFit #teamplatform at NCTA get ready to run a St. Patrick's Day 8K road race, spanning the U.S. Capitol grounds and National Mall on March 9, (back row, l. to r.): Julie Hance, Ethan Buch, Frank Gallagher, Kristin Buch, Steven Morris, Lisa Hamilton, Scot Donaldson, Rob Stoddard, Rick Stoddard; (front row, l. to r.): Kelly Allers, Kat Stewart, Esther Song, Carleigh Blewett, Lisa Otto. NCTA's team finished 11th in a field of 54.







November 16, 2012

Show Me The Money 11/16/12

WaveDivision Holdings, a business-class fiber-optic and broadband services company with business and residential customers in Washington, Oregon and California, just raised $1 billion-plus in funding, including equity investments from Oak Hill Capital Partners and GI Partners, and new bank and high-yield debt financing led by Deutsche Bank and Wells Fargo. Monies will be used for new growth in its service areas. Wave operates under the Wave Broadband and Wave Business Solutions brands in the greater Seattle, Portland, and Sacramento markets; and as Astound Broadband and Astound Business Solutions in the greater San Francisco market. Wave recently was recognized by sister publication CableFAX Magazine as 2012 Independent Cable Operator of the Year…Ruckus Wireless Inc. will price today's IPO of 8.4 million shares of common stock at $15 per share. Of those shares, 7 million are being offered by Ruckus and 1.4 million shares are being offered "by certain selling stockholders," the company says. In addition, the selling stockholders have granted the underwriters a 30-day option to purchase an additional 1.26 million shares; Ruckus gets none of the proceeds from those sales. Wireless will not receive any proceeds from the sale of shares by the selling stockholders. The shares are trading on the New York Stock Exchange under the symbol "RKUS."