CableFAX Contest - Describe the cable industry in 5 words for a chance to win a $50 Amazon gift card!
Sign up for The Skinny from CableFAX - Free Weekly Eletter
Awards --
Call for Entries & Events:

CableFAX's Most Powerful Women in Cable Breakfast
November 21 - NYC
Photos from the Event

CableFAX's Best of the Web & Digital Marketing Awards
Deadline: December 6
Enter Today!

Webinars:

Establish Cable PR and Brand Leadership with Content Marketing
December 17
Register Now!

Selling TV Everywhere: Marketing and PR Strategies to Drive TVE Awareness
On-Demand

---
---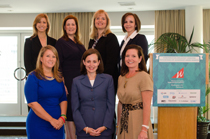 A TOUCH OF LEADERSHIP: At the PowerBrokers Breakfast of the WICT Washington, DC/Baltimore Chapter in Washington, DC on October 29, Touchstones of Leadership Award Honorees, were (top row, L-R) Discovery Comm's Catherine Frymark, Scripps Nets' Suzanne Underwald, Comcast's Samantha Callahan, TWC's Becky Bobzien-Simms, (bottom row, L-R) Travel Channel's Meghan Rodgers, the FCC's Michelle Carey & NBCU's Meredith Attwell Baker.






December 12, 2012

Setting The Standard 12/12/12

IEEE unveiled updates to four wireless communications technologies in the IEEE 802 family of standards as well as a new IEEE 802 standards-development project. The new standards support smart-grid data communications infrastructure. Comments James Gilb, chair of the IEEE 802.24 Technical Advisory Group (TAG), "These new updates to the IEEE 802 standards will enable utilities around the world to build the carrier-grade, high-capacity networks they will need to connect the millions of grid components and end-use devices that will operate on smart grids." The new IEEE 802 standards include: one for local and metropolitan area networks; one for air interface for broadband wireless access systems; one for WirelessMAN-advanced air interface for broadband wireless access systems; and development of a new standard that is intended to enable the handover of groups of wireless data connections between different types of networks in a heterogeneous network. In addition, IEEE activated the IEEE 802.24 Smart Grid Technical Advisory Group (TAG), a collaborative umbrella organization that works with multiple IEEE 802 working groups (WGs); it will liaise with key smart grid ecosystem stakeholders like regulatory agencies, other standards development bodies and industry organizations. Among the IEEE 802 WGs taking part in the IEEE 802.24 Smart Grid TAG are the IEEE 802.1 Higher Layer LAN Protocols WG, IEEE 802.3 Ethernet WG, IEEE 802.11 Wireless LAN WG, IEEE 802.15 Wireless Personal Area Network (WPAN) WG, IEEE 802.16 Broadband Wireless Access WG, IEEE 802.18 Radio Regulatory TAG, IEEE 802.21 Media Independent Handoff WG and IEEE 802.22 Wireless Regional Area Networks (WRAN) WG. For more information, click here.