Sign up for The Skinny from CableFAX - Free Weekly Eletter
Awards --
Call for Entries & Events:

CableMania with Cablefax & AXS TV - April 30
RSVP Today!

Call for Nominations - Top Operators
Nomination Deadline: May 2
Enter Now!

CableFAX's Digital & Tech Summit: May 21
Yale Club | NYC
Register Now!

Call for Entries - Program Awards
Entry Deadline: June 20
Enter Today!

Complete List of Events
Webinars:

Participation TV 2.0: Turning Audience Involvement Into Profit
May 7
Register Now!

Monetizing Social TV: New Tools and Tactics for Success
March 25
On-Demand

---
---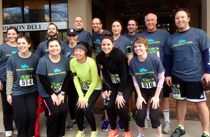 CABLE SHAPES UP! Members of CableFit #teamplatform at NCTA get ready to run a St. Patrick's Day 8K road race, spanning the U.S. Capitol grounds and National Mall on March 9, (back row, l. to r.): Julie Hance, Ethan Buch, Frank Gallagher, Kristin Buch, Steven Morris, Lisa Hamilton, Scot Donaldson, Rob Stoddard, Rick Stoddard; (front row, l. to r.): Kelly Allers, Kat Stewart, Esther Song, Carleigh Blewett, Lisa Otto. NCTA's team finished 11th in a field of 54.







December 12, 2012

Setting The Standard 12/12/12

IEEE unveiled updates to four wireless communications technologies in the IEEE 802 family of standards as well as a new IEEE 802 standards-development project. The new standards support smart-grid data communications infrastructure. Comments James Gilb, chair of the IEEE 802.24 Technical Advisory Group (TAG), "These new updates to the IEEE 802 standards will enable utilities around the world to build the carrier-grade, high-capacity networks they will need to connect the millions of grid components and end-use devices that will operate on smart grids." The new IEEE 802 standards include: one for local and metropolitan area networks; one for air interface for broadband wireless access systems; one for WirelessMAN-advanced air interface for broadband wireless access systems; and development of a new standard that is intended to enable the handover of groups of wireless data connections between different types of networks in a heterogeneous network. In addition, IEEE activated the IEEE 802.24 Smart Grid Technical Advisory Group (TAG), a collaborative umbrella organization that works with multiple IEEE 802 working groups (WGs); it will liaise with key smart grid ecosystem stakeholders like regulatory agencies, other standards development bodies and industry organizations. Among the IEEE 802 WGs taking part in the IEEE 802.24 Smart Grid TAG are the IEEE 802.1 Higher Layer LAN Protocols WG, IEEE 802.3 Ethernet WG, IEEE 802.11 Wireless LAN WG, IEEE 802.15 Wireless Personal Area Network (WPAN) WG, IEEE 802.16 Broadband Wireless Access WG, IEEE 802.18 Radio Regulatory TAG, IEEE 802.21 Media Independent Handoff WG and IEEE 802.22 Wireless Regional Area Networks (WRAN) WG. For more information, click here.