CableFAX Contest - Describe the cable industry in 5 words for a chance to win a $50 Amazon gift card!
Sign up for The Skinny from CableFAX - Free Weekly Eletter
Awards --
Call for Entries & Events:

CableFAX's Most Powerful Women in Cable Breakfast
November 21 - NYC
Photos from the Event

CableFAX's Best of the Web & Digital Marketing Awards
Deadline: December 6
Enter Today!

Webinars:

Establish Cable PR and Brand Leadership with Content Marketing
December 17
Register Now!

Selling TV Everywhere: Marketing and PR Strategies to Drive TVE Awareness
On-Demand

---
---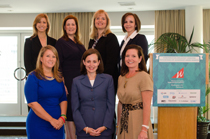 A TOUCH OF LEADERSHIP: At the PowerBrokers Breakfast of the WICT Washington, DC/Baltimore Chapter in Washington, DC on October 29, Touchstones of Leadership Award Honorees, were (top row, L-R) Discovery Comm's Catherine Frymark, Scripps Nets' Suzanne Underwald, Comcast's Samantha Callahan, TWC's Becky Bobzien-Simms, (bottom row, L-R) Travel Channel's Meghan Rodgers, the FCC's Michelle Carey & NBCU's Meredith Attwell Baker.






October 12, 2011

SeaChange's On Demand Group Enters Mexico

SeaChange International's On Demand Group, a European video-on-demand (VOD) aggregator, has signed a deal with Mexican cable provider, Cablevision, to manage its VOD services. The deal marks On Demand Group's first fully operational move into Latin America and will include Cablevision's transaction VOD and subscription VOD services.

On Demand Group specializes in the aggregation, content and service management of VOD services and works with operators to implement VOD marketing campaigns. The Cablevision service launch will mark the extension of On Demand Group's reach to 19 platforms in 13 countries.