CableFAX Contest - Describe the cable industry in 5 words for a chance to win a $50 Amazon gift card!
Sign up for The Skinny from CableFAX - Free Weekly Eletter
Awards --
Call for Entries & Events:

CableFAX's Most Powerful Women in Cable Breakfast
November 21 - NYC
Photos from the Event

CableFAX's Best of the Web & Digital Marketing Awards
Deadline: December 6
Enter Today!

Webinars:

Establish Cable PR and Brand Leadership with Content Marketing
December 17
Register Now!

Selling TV Everywhere: Marketing and PR Strategies to Drive TVE Awareness
On-Demand

---
---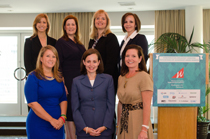 A TOUCH OF LEADERSHIP: At the PowerBrokers Breakfast of the WICT Washington, DC/Baltimore Chapter in Washington, DC on October 29, Touchstones of Leadership Award Honorees, were (top row, L-R) Discovery Comm's Catherine Frymark, Scripps Nets' Suzanne Underwald, Comcast's Samantha Callahan, TWC's Becky Bobzien-Simms, (bottom row, L-R) Travel Channel's Meghan Rodgers, the FCC's Michelle Carey & NBCU's Meredith Attwell Baker.






December 14, 2012

New Stuff 12/14/12

Comcast added a new capability to its Xfinity TV Player app that lets customers download Internet content directly to their mobile devices. Programming from SHOWTIME, STARZ, ENCORE and MOVIEPLEX is featured. In addition, Comcast and Verizon Wireless will offer Verizon Wireless customers to download and stream content directly to mobile devices over its 4G LTE network…The Argus UltraBand, claimed by CommScope to be the world's first ultra-wideband antenna system capable of supporting the four major air-interface standards in almost any wireless frequency range, helps operators reduce the number of antennas in their networks, thus lowering tower leasing costs while increasing speed to market. Operators will be able to deploy LTE in 2.6 GHz and 700 MHz while supporting W-CDMA in 2.1 GHz from one antenna. The first UltraBand model is a 10-port, 2.5-meter version, available now…Radisys, SK Telesys and Mindspeed Technologies Inc. have teamed to offer an integrated carrier-class Voice-over-LTE (VoLTE) solution for small-cell base stations. SK Telesys has integrated this solution into its small-cell product featuring the Mindspeed Transcede 3000 system-on-chip (SoC). Developed with software from both Mindspeed and Radisys, the product meets 3GPP Release 9 "Home eNodeB" specifications, including support for self-organizing network (SON) features…San Diego's Pulse Electronics Corporation unveiled a new line of Shadow Low Profile Transit (SLPT) NMO and direct mount antennas to support public-safety, WLAN, smart grid/smart metering, 3G and 4G applications. The high-performance, rugged, IP-67-rated antennas are provided in a slim, low-profile radome of only 2.5 inches to 3 inches tall with a 1.5-inch-diameter base and high gains of 4 to 5.6 dBi. The antennas serve as both mobile units for vehicular use and M2M antennas for kiosk and other network devices.