CableFAX Contest - Describe the cable industry in 5 words for a chance to win a $50 Amazon gift card!
Sign up for The Skinny from CableFAX - Free Weekly Eletter
Awards --
Call for Entries & Events:

CableFAX's Most Powerful Women in Cable Breakfast
November 21 - NYC
Photos from the Event

CableFAX's Best of the Web & Digital Marketing Awards
Deadline: December 6
Enter Today!

Webinars:

How to Profit from Content Marketing in Cable
December 17
Register Now!

Selling TV Everywhere: Marketing and PR Strategies to Drive TVE Awareness
On-Demand

---
---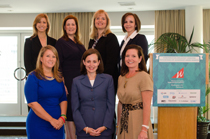 A TOUCH OF LEADERSHIP: At the PowerBrokers Breakfast of the WICT Washington, DC/Baltimore Chapter in Washington, DC on October 29, Touchstones of Leadership Award Honorees, were (top row, L-R) Discovery Comm's Catherine Frymark, Scripps Nets' Suzanne Underwald, Comcast's Samantha Callahan, TWC's Becky Bobzien-Simms, (bottom row, L-R) Travel Channel's Meghan Rodgers, the FCC's Michelle Carey & NBCU's Meredith Attwell Baker.






December 13, 2012

New Stuff 12/13/12

The PBN AOCM2400 and AOCM2900 series Gigabit Ethernet switching products from Pacific Broadband Networks Europe are L2 access switches for FTTx and IPTV deployments. All PBN switches support wire-speed switching and packet filtration up to Layer 4. The AOCM2948 SFP-based device can be used as an access switch for FTTx scenarios. Key features of the series include as much as192 Gbps switching fabric, wire-speed packet forwarding; high port density and a maximum of 48x Gigabit SFP ports + 4x 10/100/1000TX/Gigabit SFP Combo; and SFP-based Gigabit optical-fiber ports that support distances to 80 kilometers…Earlier today, Broadpeak launched C-CAS (Conditional Access System-Compliant Adaptive Streaming), a new technology it says enables pay-TV operators to support adaptive streaming protocols while simultaneously remaining compliant with conditional access systems on subscribers' existing set-top boxes (STBs). The first application of C-CAS will be available on Broadpeak's BkS100 VOD servers that automatically select the appropriate streaming quality based on available bandwidth…DSU added the FiberComplete test solution to its T-BERD/MTS-6000 and T-BERD/MTS-8000 platforms. Originally developed for metro and access point-to-point or point-to-multipoint PON networks, the FiberComplete EVO modules for the T-BERD/MTS-6000 and T-BERD/MTS-8000 V2 platforms extends testing applications to long and very long-haul networks. According to the manufacturer, FiberComplete is the industry's first all-in-one multifunction solution that provides automatic testing of bidirectional insertion loss, optical return loss, and OTDR from a single port, enabling single-connection, one-button testing…Brand-Rex, a supplier of copper- and fiber-optic based network infrastructure solutions for enterprises, data centers and extreme environments, unveiled a10 Gigabit Ethernet PCB Patch Panel Set comprising a ½U shielded patch panel, a 1U shielded patch panel and a consolidation point module. Supporting 24 ports and delivering true Category 6A/Class EA performance, the 10GPlus PCB ½U patch panel is perfect for applications where space is at a premium and a high-density solution with maximum airflow is required.