CableFAX Contest - Describe the cable industry in 5 words for a chance to win a $50 Amazon gift card!
Sign up for The Skinny from CableFAX - Free Weekly Eletter
Awards --
Call for Entries & Events:

CableFAX's Most Powerful Women in Cable Breakfast
November 21 - NYC
Photos from the Event

CableFAX's Best of the Web & Digital Marketing Awards
Deadline: December 6
Enter Today!

Webinars:

Establish Cable PR and Brand Leadership with Content Marketing
December 17
Register Now!

Selling TV Everywhere: Marketing and PR Strategies to Drive TVE Awareness
On-Demand

---
---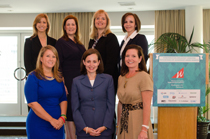 A TOUCH OF LEADERSHIP: At the PowerBrokers Breakfast of the WICT Washington, DC/Baltimore Chapter in Washington, DC on October 29, Touchstones of Leadership Award Honorees, were (top row, L-R) Discovery Comm's Catherine Frymark, Scripps Nets' Suzanne Underwald, Comcast's Samantha Callahan, TWC's Becky Bobzien-Simms, (bottom row, L-R) Travel Channel's Meghan Rodgers, the FCC's Michelle Carey & NBCU's Meredith Attwell Baker.






December 12, 2012

New Stuff 12/12/12

Two new Near Field Communication (NFC) solutions from Broadcom Corporation will be showcased at the upcoming 2013 Consumer Electronics Show (CES) in Las Vegas next month. The expansion of NFC, it says, "will inspire adoption in broader consumer electronics devices like game controllers, TVs and remotes, computer keyboards and mice, headsets, printers and more"…Avaya unveiled a family of "people-centric" video solutions for the mobile enterprise that facilitate face-to-face collaboration from consumer devices, desktops and room-based systems. Here's what's on offer: Avaya Aura Conferencing with Avaya Flare Experience 1.1; the Scopia XT5000 room system; Scopia Mobile; Scopia XT Executive 240 (XTE 240) desktop video conferencing; the Scopia TIP Gateway with three-screen support; the browser-based Scopia Management System; and Avaya Client applications with Microsoft Lync, Outlook and Office integration…Vitesse Semiconductor Corporation and Microsemi Corporation are marketing a joint reference design delivering IEEE1588v2 (1588) timing and synchronization required by carriers to deliver scalable, higher bandwidth communication services over packet-based networks. Based on Vitesse's Serval VSC7418 Carrier Ethernet Switch Engine with VeriTime 1588 technology and Microsemi's ZL30343 SyncE/IEEE1588 packet synchronizer (DPLL) and state-of-the-art clock recovery algorithm, the reference design helps carriers with synchronization and timing expertise while expediting time-to-market with next-gen network products. The reference design, known as the VSC5619EV, is available immediately.