CableFAX Contest - Describe the cable industry in 5 words for a chance to win a $50 Amazon gift card!
Sign up for The Skinny from CableFAX - Free Weekly Eletter
Awards --
Call for Entries & Events:

CableFAX's Most Powerful Women in Cable Breakfast
November 21 - NYC
Photos from the Event

CableFAX's Best of the Web & Digital Marketing Awards
Deadline: December 6
Enter Today!

Webinars:

Establish Cable PR and Brand Leadership with Content Marketing
December 17
Register Now!

Selling TV Everywhere: Marketing and PR Strategies to Drive TVE Awareness
On-Demand

---
---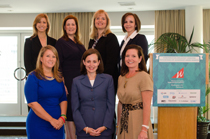 A TOUCH OF LEADERSHIP: At the PowerBrokers Breakfast of the WICT Washington, DC/Baltimore Chapter in Washington, DC on October 29, Touchstones of Leadership Award Honorees, were (top row, L-R) Discovery Comm's Catherine Frymark, Scripps Nets' Suzanne Underwald, Comcast's Samantha Callahan, TWC's Becky Bobzien-Simms, (bottom row, L-R) Travel Channel's Meghan Rodgers, the FCC's Michelle Carey & NBCU's Meredith Attwell Baker.






December 10, 2012

New Stuff 12/10/12

Atlanta-based Cbeyond Inc. has rolled out its TotalCloud Phone System nationwide. Designed for single or multi-location businesses with office, remote and mobile workers, TotalCloud Phone System can route and prioritize voice traffic via Cbeyond's carrier-class private IP-network linked to a secure data center. Key benefits include such advanced phone features as mobile phone integration, call filtering, online feature management and click-to-dial using Microsoft Outlook; and the ability to purchase only the capacity needed and to flexibly scale up or down according to business needs…Electronic-components provider Pulse Electronics Corporation is offering a new integrated connector module (ICM) platform for 10GBASE-T (10 gigabit over twisted-pair) switches. The family includes the four most common port configurations — 2x2, 2x4, 2x6, and 2x8 — available with solder through-hole or press-fit-pin technology. In addition, the ICMs are tuned to have flat insertion loss curves and "excellent" return loss performance over 10GBASE-T frequencies, the company says…The UltraGig 6400, a WirelessHD transmitter for mobile devices that integrates a 60 GHz RF transceiver, baseband processor and embedded antenna array into a single IC package, now is available for sampling from Silicon Image. Designed for smartphones and tablets, the ultra-low power transmitter reportedly delivers a cable-quality connection without wires. The UltraGig 6400 combines the beam-forming technology of a 60 GHz RF transceiver with an embedded antenna array to enable a secure, high-bandwidth video link to WirelessHD-compliant receivers and displays, thereby eliminating all interference with Wi-Fi-based solutions, according to the manufacturer…ADTRAN Inc. expanded its suite of Bluesocket Access Points (APs) to allow vWLANs to be optimized for more applications across enterprise vertical markets and service providers. The Bluesocket 1900 series includes a built-in stateful firewall enforces security policies at the edge, helping to ensure that unwanted traffic never enters the network and authorized traffic is immediately prioritized. The Bluesocket access points are designed to support a wide array of indoor and outdoor deployment scenarios.